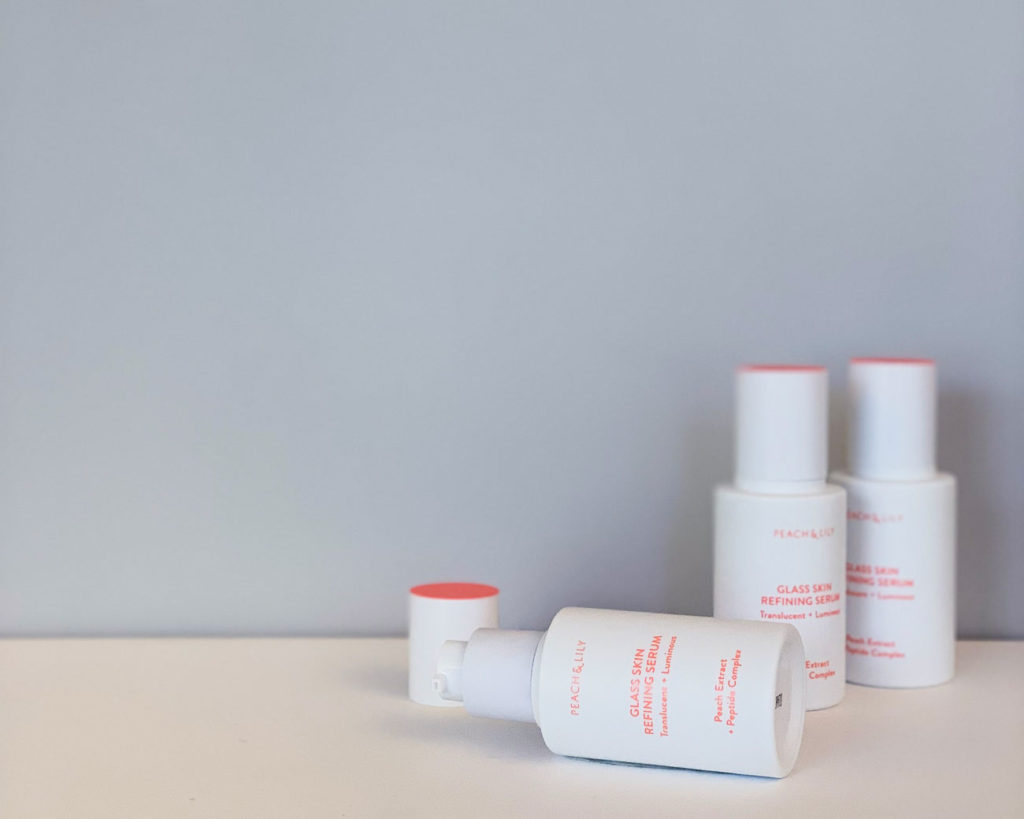 Glass skin — skin that appears like glass, poreless, luminous, translucent. We don't mean that skin that you can literally see through (obviously), but skin that is so clear and radiant, it has that clear, glossy look of glass.
You might be thinking, That sounds impossible. I don't have the time or money to do that.
Au contraire! To be sure, it would be nice if we could all get expensive facials and have the time for extensive, thorough routines, but we know — reality doesn't always allow for that. However! That does not mean that glass skin is unattainable!
Glass skin is, essentially, healthy and hydrated skin; it's about making sure your skin gets the nutrients and the hydration it needs to thrive. It's about finding the products that work for you and your skin, that help keep your skin balanced, nourished, and, again, hydrated, and it's about finding that routine that works for you — and sticking to it because consistency is key!
It doesn't matter if you have a quick and easy routine or an intensive 10-step one — just make sure you're doing it every day! Skincare is a marathon, and you're sure to see the rewards of committing to a routine. If you're intrigued but don't know where to start, let us walk you through a sample routine!
Cleanse Thoroughly Every Day.
Even on your laziest days, cleanse your skin! Cleansing is one of the most essential steps because it dissolves away makeup and sweeps away excess sebum, grime, and other impurities that may have gathered on your skin during the day, helping prevent pores from clogging and gathering bacteria and other congestants. It's key to keep cleansing gentle but thorough, so your skin is cleansed but not stripped dry, which can cause it to become dehydrated. We're big proponents of the double cleanse, but we also love when products let us combine both steps in one, like the Eco Your Skin Oil-to-Foam Cleanser. The convenience (and gentleness and efficacy) makes it so much easier to commit to a routine!
Tone Skin to Help It Stay Balanced.
Toners help re-balance the pH level of skin after cleansing. Skin's pH level lets you know how acidic or alkaline it is on a scale of 0 (totally acidic) to 14 (totally alkaline), and skin is considered balanced when its pH level is in the 4.5 to 5.5 range — so, slightly acidic, which allows for skin's microbiome to thrive while fending off bad bacteria and harmful irritants. You can imagine why we stress the importance of keeping your skin balanced.
Cleansing can throw skin's pH level off, and a toner helps "balance" it, which means bring it back into the happy range of 4.5 to 5.5. The Peach & Lily Good Acids Toner does exactly that, while also providing gentle exfoliation with a small amount of glycolic acid that's effective and gentle enough for daily use, even for sensitive skin. The toner doesn't just stop there, though; it also helps hydrate, soothe, and nourish skin, prepping skin for the products to follow.
Hydrate Skin With an Essence.
One of the primary characteristics of healthy skin is that it is sufficiently hydrated, and the primary task of an essence is to drench skin with hydration. Essences come with other secondary benefits, of course, like brightening or, in the case of the Atoclassic Real Tonic Soothing Origin Essence, soothing and helping calm irritation. With 14% hanbang ingredients, the Soothing Origin Essence help reduce redness and provide skin with the gentle, healing properties of hanbang ingredients and principles, while deeply hydrating skin.
Get a Boost of Nutrients With a Serum.
A serum is a treatment you can use to give your skin a boost and/or target specific skin concerns. It's also a good way to make sure your skin is getting all the nutrients, hydration, and antioxidants it needs to thrive, which is exactly what the Peach & Lily Glass Skin Refining Serum was formulated to do. Packed with peach extract, madecassoside (derived from centella asiatica extract), peptides, niacinamide, and mountain yam extract, the Glass Skin Refining Serum is an easy way to glass skin!
Seal Everything In With a Moisturizer.
A moisturizer provides another layer of hydration to skin, and then it serves as the final step in a routine by sealing everything in. Moisturizers contains occlusives, which create a barrier on the surface of skin that helps slow down transepidermal water loss, so hydration and all the other ingredients you've just applied can stay in skin. That's not all moisturizers do, though; they're also another layer of nourishment and protection; so we recommend selecting one that is rich in beneficial ingredients.
The Peach & Lily Matcha Pudding Antioxidant Cream is packed full of matcha, one of the best sources of antioxidants, which help fight free radical damage caused by environmental stressors. The cream, which plays particularly well with the Glass Skin Refining Serum, also has cape lilac extract, niacinamide, and adenosine, which help brighten and firm skin.  
Don't Forget About the Eye Area.
The skin in your eye area is the thinnest and most fragile, and we like making sure it gets a little extra love. Eye creams are actually formulated to be lighter than moisturizers, so as to prevent overloading such thin, delicate skin, and different eye creams can target different concerns, from puffiness to fine lines to dark circles. We recommend the Aromatica Rose Absolute Eye Cream, which helps protect against visible signs of aging and dark circles, with a waterless formula made of an aloe base that's been fortified with high-quality oils and plant-based extracts.
—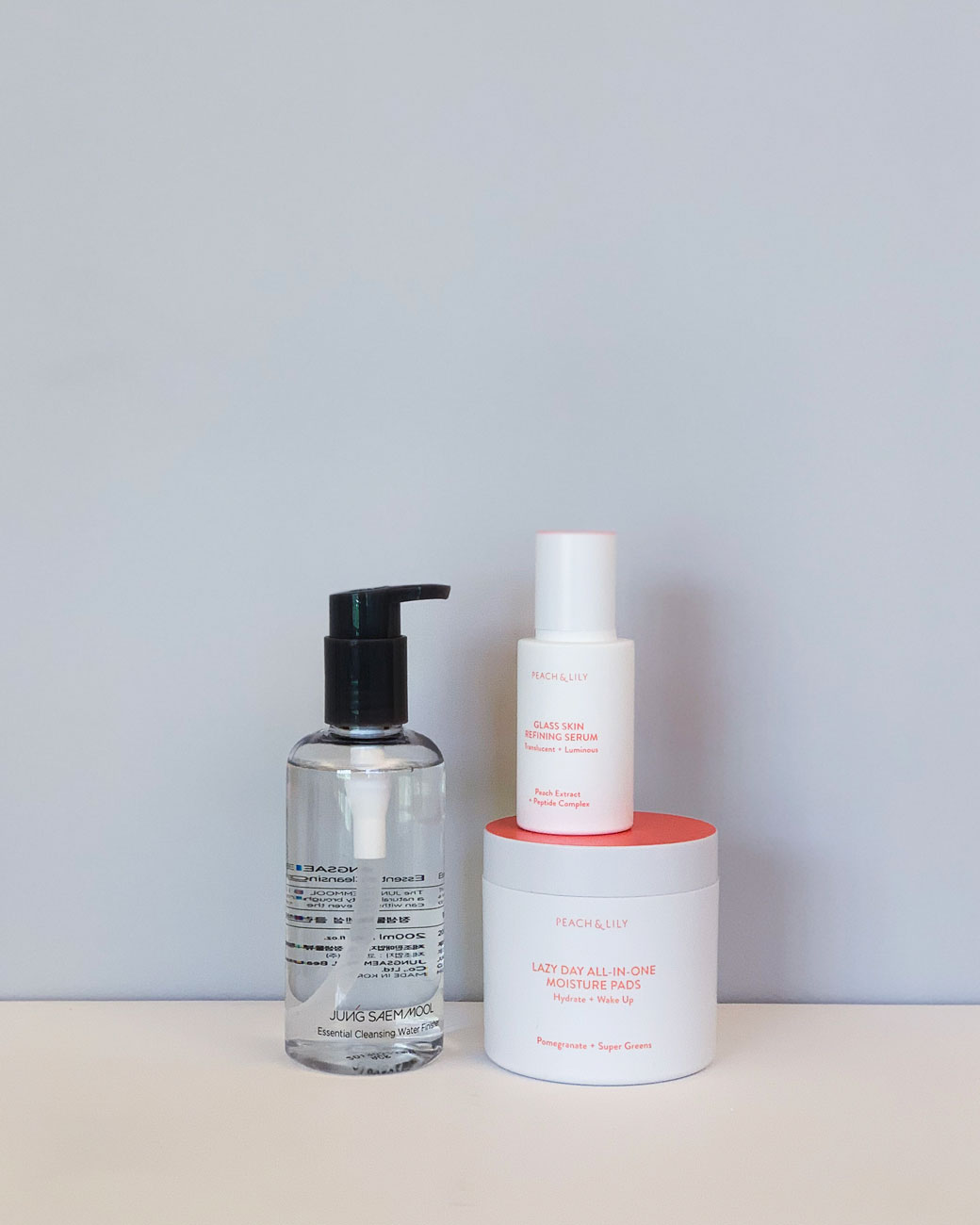 And on those lazy days or those super demanding days or those days you just don't have any spoons? It's okay to pare things down, but we still recommend you cleanse, even if it's just using a cleansing water (like Jungsaemmool's Essential Cleansing Water Finisher) on a cotton pad to swipe all the makeup and grime off your skin. Follow that up with the Peach & Lily Lazy Day All-in-One Moisture Pads, which work as a toner-serum-moisturizer in one cotton pad, and finish with the Peach & Lily Glass Skin Refining Serum to make sure your skin gets all the vitamins, nutrients, and antioxidants it needs!