Mom Life: A Makeup Artist's Flight Essentials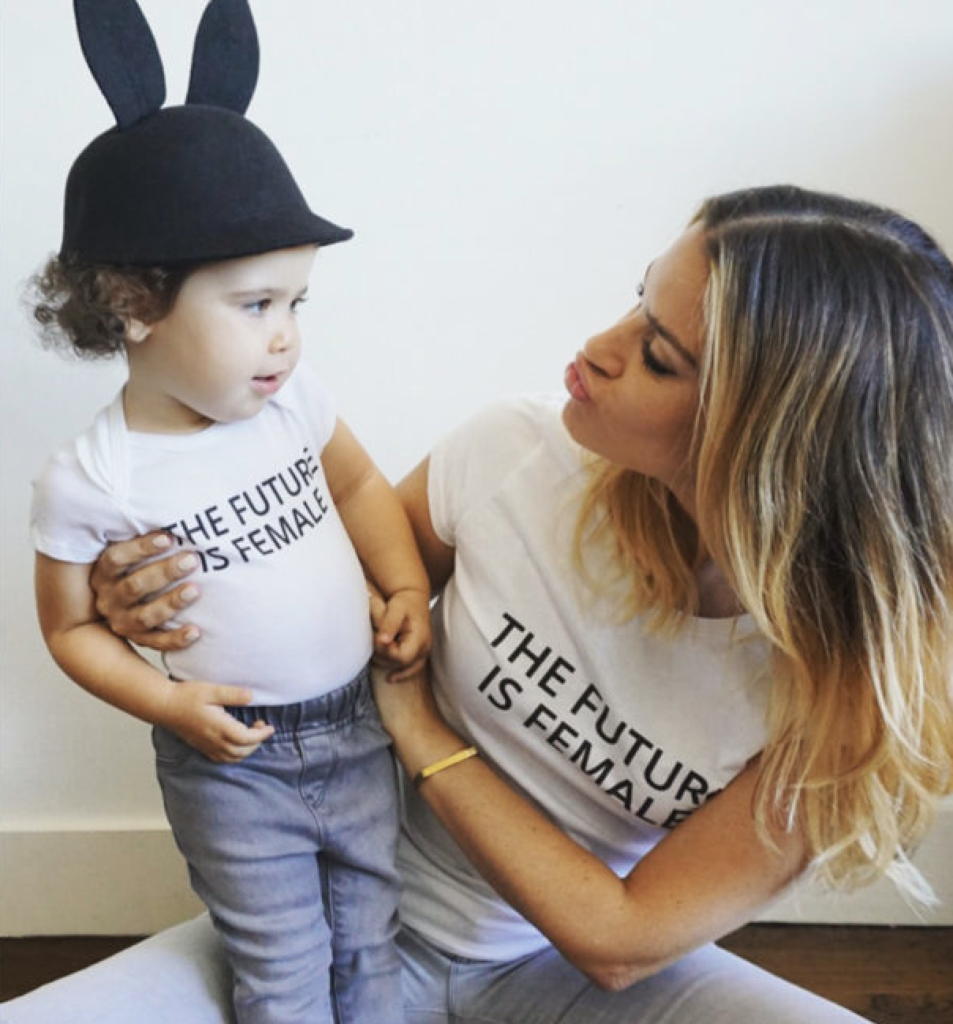 Over the 9-t0-5 grind, Joanna Simkin left a successful job in marketing and PR at Carol's Daughter to create her own dream gig. Without any prior experience, she left New York City for Los Angeles to become a makeup artist. Now, years later, back in New York, Simkin has become an established makeup artist and can often be found painting faces for celebrity clients like Issa Rae and the fashion elite — editors from InStyle, Teen Vogue, and Allure often see Simkin before fancy fêtes.
We sat down with Simkin to talk about her hustle, how she makes time for her young daughter, and why she can't live without an Asian bath towel.
How did you break into the beauty business?
I worked in marketing and PR for beauty until 2009; I was over New York and working for others. I left for LA, and I had a good Roledex. I think my PR and marketing skills helped me to establish myself. Twitter was becoming a thing — I was connected with producers, directors, hairstylists from my previous job, and we were all following each other on Twitter. I saw that as an opportunity. Even when I was making no money, doing a video for an artist no one knew of, I'd talk about it on Twitter because perception is reality. That was a huge stepping block for me.
Most people do makeup for years and have an amazing book — I didn't have that, but I had contacts, and I knew how to market myself. I looked like I was busy, so I just started getting booked — it was a bit of smoke and mirrors.
I always loved playing with makeup as a kid, and I got a counter makeover one day when I was 19. I was at Bobbi Brown, and it was so natural and fresh. Then I got Kevyn Aucoin's workbook, and he was doing these amazing transformations. That book was like the OG YouTube tutorial — it was groundbreaking. I'm pretty self-taught. I've taken classes on film and television makeup. Everything in theory is fun, but it needs to be put on action. I can be told about different lights, but, until you're on a set, you really don't know.
How do you juggle a busy jet-setting job and make time for your own personal life?
Working is such a struggle; balance is an illusion. I think you do what you can. There are lots of balls in the air. I love being a freelancer. My daughter, Noelle, is two-and-a-half. She's such a personality — she cracks me up everyday. She's up from 8 am to 8 pm, and I want to see her for more than an hour. I do a lot of travel, though, so, sometimes, I won't see her for a few days, but, other days, like today, I won't have work until 1 pm. It allows me to spend the whole morning with her.
I do a lot of celebrity press, and that means a lot of early call times at hotels. I havre to wake up super early, but, those days, I'll wrap at noon, and then I'm done and have the whole day to spend with Noelle.
I'm exhausted, but I do have help. My nanny comes over, so I can sleep for a bit and hang out with the baby. I do a lot of red-eye flights since traveling to LA takes the entire day, and I try to be back by the morning so I can see Noelle. I won't lie — there are lots of days I feel like I'm sleep-walking.
I do get to set my schedule, so I have a certain amount of flexibility, but, as a freelancer, you don't want to say no to good work. A good rate or good client, it's hard to turn down. Whether you work for a boss or a celebrity, you have to be somewhere doing something. Freelancing has its ups and downs, and it's hard to plan stuff. Even taking a vacation, I just have to do it and know I might have to turn down great work that week.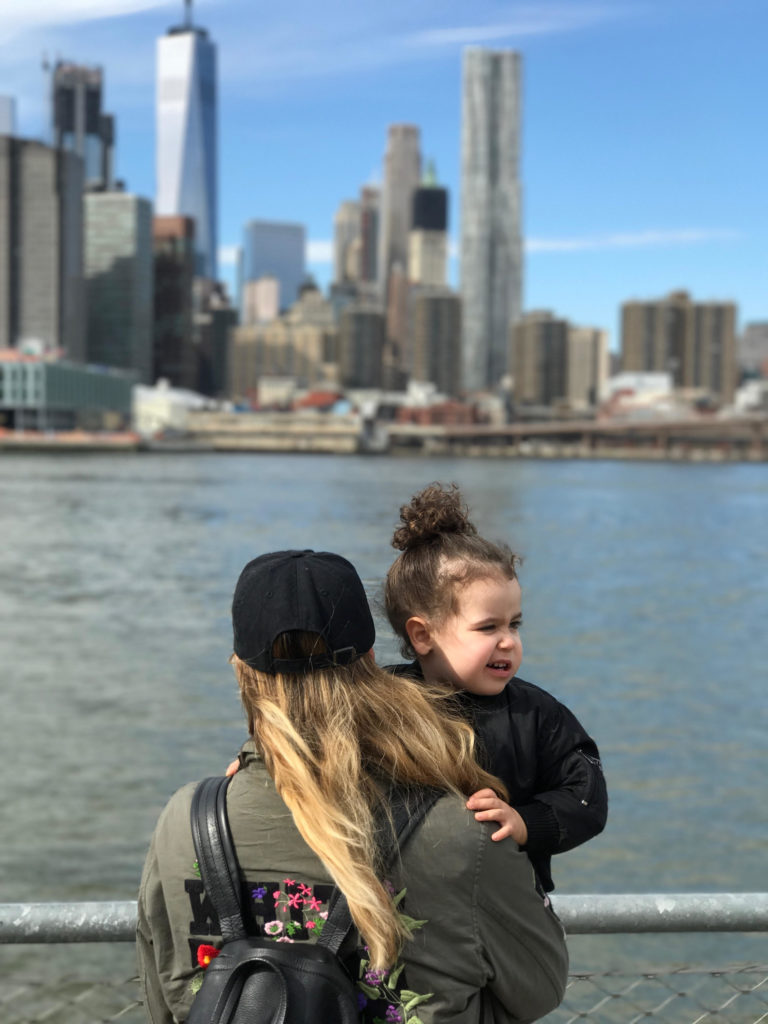 Tell us about your current skincare routine.
It's so hard to do makeup on bad skin — I really believe that skin has to be in order first.
I never had pimples as a teen, but, now at 37, I'm breaking out. I'm dry while traveling but oily other times. I don't like to fly with makeup on, especially on a red-eye. I use makeup wipes to clean my skin as soon as I'm settled in my seat. I've been using Arcona Triad Pads ($48; amazon.com) — they cleanse, hydrate, and tone. Airplane air is very dry, so I use Arcona Magic White Ice ($42; amazon.com) — it's a lightweight moisturizer, but it takes away any tightness. I also use face oils on the plane. I love Rodin Olio Lusso ($170; amazon.com). It really absorbs and boosts moisture.
At home, I give myself a facial nearly everyday. I use micellar water to take all my makeup off — I love versions from Bioderma ($17; amazon.com) and Garnier ($7; amazon.com). I steam my skin twice a week. I like the Murad daily scrub AHA/BHA exfoliating scrub ($24; amazon.com). It's not very grainy; some scrubs can be too harsh. This chemically exfoliates and gives skin a fresh feel. Sometimes, I use Eminence Strawberry Rhubarb exfoliant ($32; amazon.com) — it's like a white powder, and I mix it into my cleanser. It turns any face wash into a scrub. It has lactic acid, so it helps brighten skin a lot.
If I have very oily areas, I'll dab on a bit of witch hazel, then, I use vitamin C — I love the Philosophy Time In a Bottle ($63; amazon.com); it comes with an extra shot of vitamin C to activate it. It makes me feel like a chemist, and it might be psychological, but I feel like the activation part really makes it work. Vitamin C is great for daytime and brightening.
At night, I use face oil — it makes skin look supple when I wake up. I've been using a dark spot corrector from Illuma ($40; amazon.com) that I like to put on dark spots to brighten them. It can be so tough to find a good sunscreen. For darker complexions, sunscreen can give that white cast or make skin look purple and iridescent. I recently got the CoverFX clear cover sunscreen ($83; amazon.com), and I am so obsessed with it.
Skin really plays a big part of the makeup beat. I've been using a Lancôme sheet mask from Genefique ($105; sephora.com). It's so hydrating and makes skin so smooth. I use that on clients before special events. I also like to apply Klorane Eye Patches ($24; klorane.com) — I do eye makeup first on women, and this provides a treatment and catches any shadow fall-out. It's very pampering.
When celebrities fly, I try to massage their skin, especially around the orbital bones. It can help relieve puffiness. I try to massage upwards to give a bit of lift to the skin.
I always use La Mer lip balm ($60; lamer.com). It's so hydrating, but lipstick won't slide off — just blot it lightly before putting on lipstick. Then, I like to use Kiehl's Utlra Facial Cream ($28; nordstrom.com). It's hydrating without being greasy, and it's a nice base for makeup.
For an instant glow, I love Becca Liquid Skin Perfector ($24; amazon.com); it's a miracle product. They make tons of colors. I love Moonstone for light skin, Rose Gold for medium complexions, Topaz for deeper tones. I like to apply it all over and spot-powder where needed, like on the T-zone to remove some shine. It gives a 3D glow effect. I even mix it with foundation and tinted moisturizer.
What are your beauty indulgences?
My splurge is laser hair removal; it's the best thing ever. I get facials once a month now; I don't know why I didn't do it before. It has really helped with my skin, my pores. I try to get a massage every two months. I try to exfoliate my body. I've gone to Korean spas; they do really aggressive yet amazing scrubs that totally retexturize your skin. It's so satisfying seeing your dead skin fall off. I even create my own version of this exfoliation at home. They sell these loofah bath sheets online ($6; amazon.com), and I use my body wash and rub the towel over my body, and it makes my skin so smooth, like newborn-baby smooth. It's especially great for prepping skin before a spray tan.
Since having your daughter, how have your ideals of  beauty changed?
I am super conscious of not saying anything derogatory, like saying "I look fat." I try to make sure I take compliments when my husband gives them instead of rejecting them or playing them off. My daughter is biracial — she has amazing curly hair. I'm so cognizant of how beautiful her curly hair is, and I always tell her that. There's also a stigma of white moms with black kids and not knowing how to treat hair. I work in beauty, with Black beauty, and work with amazing hairstylists who do Black hair. I called hairstylist Lacy Redway to talk about natural hair and how to care for it. She advised me to co-wash Noelle's hair, and that was life-changing. Her curls were so springy and bouncy after!
At a young age, I'm showing her how to care for herself. Your beauty totally affects self esteem, but it comes down to how you perceive it. I try to make it about care, like we talk about detangling hair so it won't hurt and get knotty. Even in the morning, she picks out her hair accessory. It's an expression of individuality, even at her young age. Yesterday she wore 3 random bows. I let her own how she looks and give her the tools so she feels her best. My mom was a hippie, and she might have brushed my hair but beauty was never a big deal. My mom was always low maintenance, but I wanted to know more about beauty growing up, so now I try to teach my daughter to love her hair and herself. 
Thank you, Joanna, for taking the time to talk to us! Follow Joanna on Instagram for more of her work and her adorable daughter!