Mom Life: A Celebrity Hairstylist's Solution for Post-Partum Thinning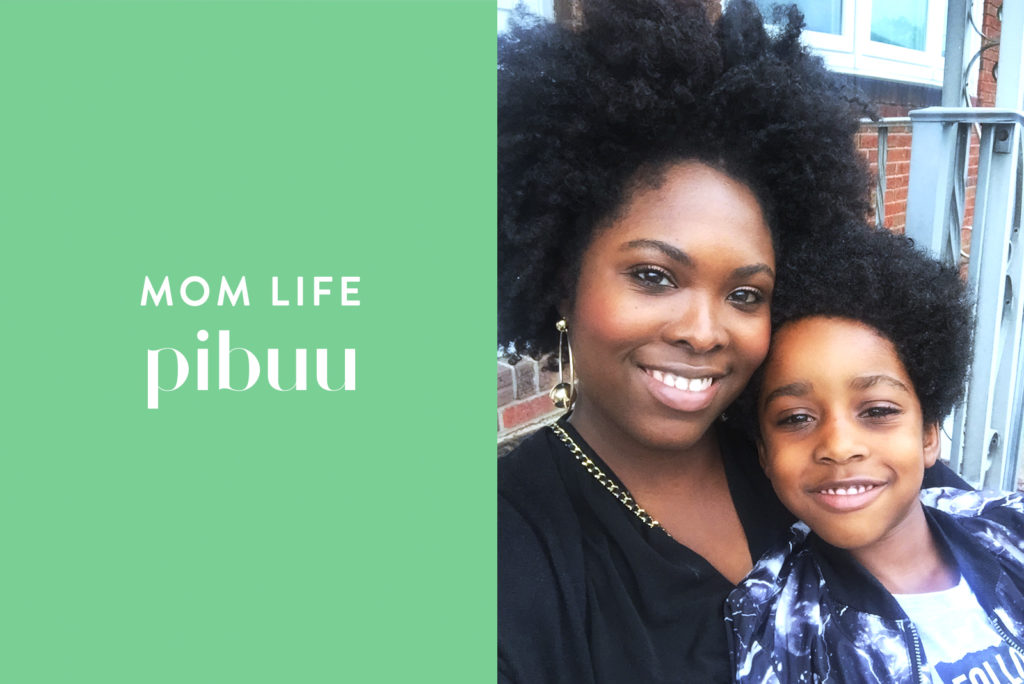 Jamaican born, New Jersey based hairstylist Lacy Redway has a client list that reads like a roster of It girls- Jessica Alba, Lupita Nyong'o, Priyanka Chopra, Olivia Palermo- to name a few! Redway started assisting in a salon at the mere age of 14. While in college, she continued to do hair to help pay for school. After some serious soul searching, she made the choice to go to beauty school full time. Her fearless decision paid off- her star studded Instagram shows a multitude of diverse styles that showcase the 30 year's old impressive talent.  Ahead, Redway dishes on her simple skincare routine and how she helped strengthen her hair post-partum.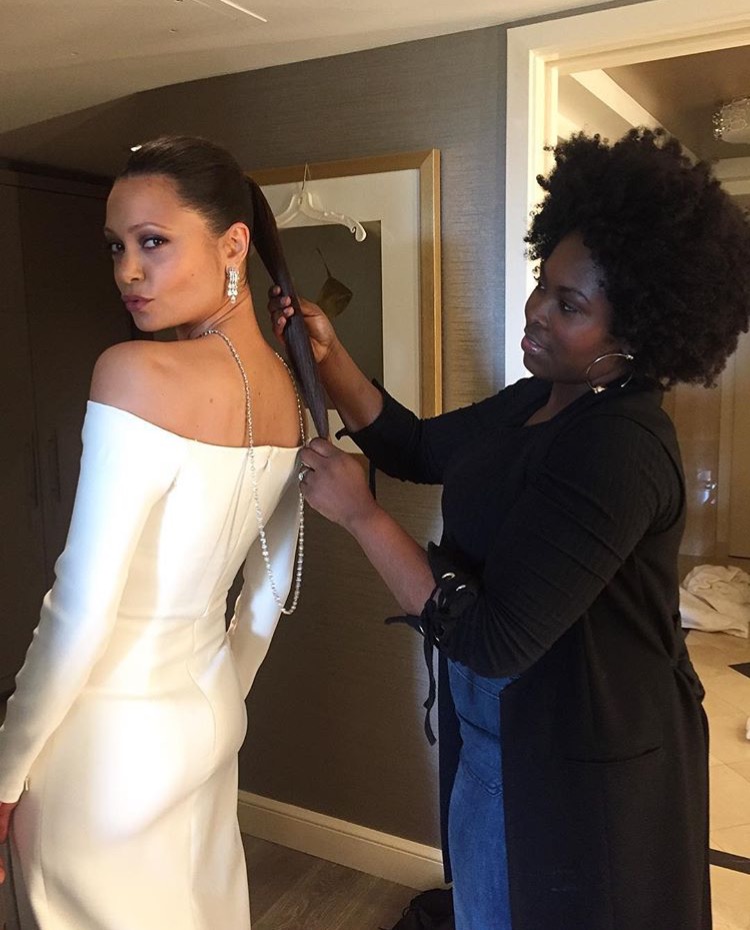 What's your skincare routine like?
I was always pretty light on skincare but during pregnancy,  I was extra cautious especially because it was my first child.  I only used mostly natural products like African black soup, coconut oil, and  shea butter. The African black soap I use, I get it in Harlem- it does a really great job of cleansing my skin.
While my skin didn't change much, my hair did!  I already have a lot of hair and during pregnancy, my hair looked amazing. Post partum, I started to lose a bit of hair. It's so common. I used Biotin to help strengthen my strands (and my nails too!). Take it easy on your hair. Don't put too much stress on it- no tight ponytails, try to be gentle with it. It just has to go through the process though, give yourself and your body time to adjust. You need time to replenish, it's a natural process.
My skin is pretty sensitive so I keep it pretty minimal. I like using Simple Skincare foaming cleanser ($15; amazon.com). Sometimes, I use that with a Clarisonic that my makeup artist friend Daniel Martin gifted to me. It literally makes my face feel like a newborn baby. I never realized how much makeup is still left on my face even after washing my face with a cleanser until my client Lucy Hale mentioned using her clarisonic to help lift left over makeup in interviews. Then, I apply Glossier moisturizer and I also use coconut oil on my hair and skin. I have pretty normal skin so it's easy to work with, I credit that to my mom. Some of it's genetic and my mom looks great for her age. My skin can be sensitive so I try to be careful with ingredients I use.
I've noticed that with celebrities, they put a lot of investment into their skincare. Even male celebrities really take care of their skin and make sure to get regular facials. Jade rollers are something some of my clients use- I really want to try that out! Skincare is a big component of an overlook look and it's definitely an investment in yourself. Even applying makeup, if the skin isn't in the right place, makeup won't lay properly and it won't look flawless. It can be hard to fake that.
Are there any beauty rituals you like to indulge in?
I am totally a sheet mask kind of girl but that's sort of a new territory I've been experimenting with lately. I get a lot of compliment on my skin. I have been fortunate that I didn't experience a ton of breakouts while growing up!
Do you see any bits of you in your children?
My son and I are hair twins- we have the same Afro, it's the cutest . I love that he loves his hair just as much as I do.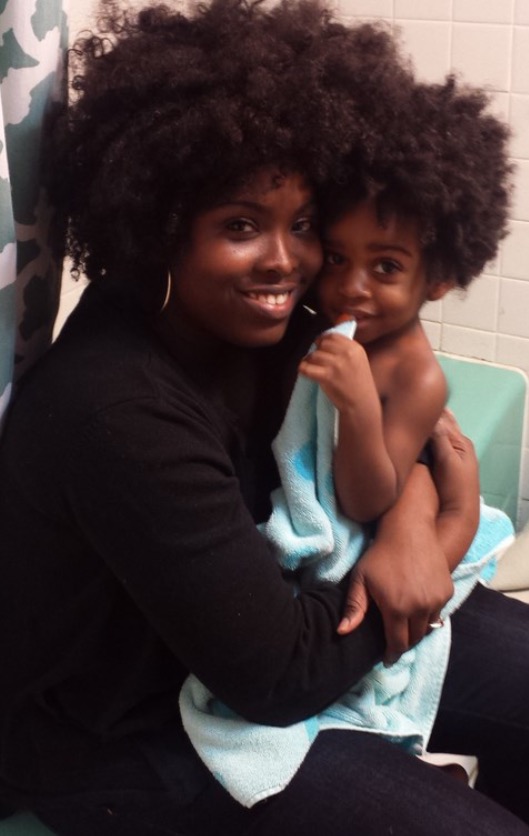 What is your favorite thing about motherhood?
Watching him grow in every stage , he's so expressive , if you ever watch my Instagram stories you will see him make a cameo from time to time, it's like our own little sitcom.
What advice do you have for other mothers?
Follow your gut ,  there isn't  one way to do anything . Take advice from others with a grain of salt, you're doing a great job and take it easy on yourself.  If your a first time mom like me, everything felt like the end of the world, if truly isn't I promise it gets better .
How has your career changed since you've become a mother?
There aren't a lot of my mothers in this industry at my level, I get asked about it a lot. It's all balance and having a strong support system- I can't do this alone. I don't think I've mastered this juggling act. I think you just have to take it day by day. Balance is so important. Women in my industry are so career driven and they want to get somewhere by a certain time and there's so much emphasis on this time table. When you are talented and easy to work with, people will always want to work with you. Children grow up so fast, you don't want to miss all those moments. You can't reverse that time. For me, when I first had my son, (he's now four), I didn't do shoots the first year. It gave me an opportunity to spend quality time with him. Before having my son, I was at a fashion driven agency doing editorial shoots. Sometimes, you can be on set for 15 hours. I started to do more celebrity work to have more flexibility and it's given me more time to work with my family. I can get someone ready and come back home. You have to try try to create a career with flexibility.  I'm okay with giving up certain things. You have to find the balance of what's most important to you. Having a strong support system is so key, especially if you want to be a career mom. It truly does take a village, you have to be able to give up control. I gave up living in the city to be closer to my parents so they could help with my son. Now, I have a longer commute but I have help I trust.  My husband is amazing, because of my family, I can do this. I have to give credit where it's due.