Going on Summer Holiday? Don't Forget Your Skincare!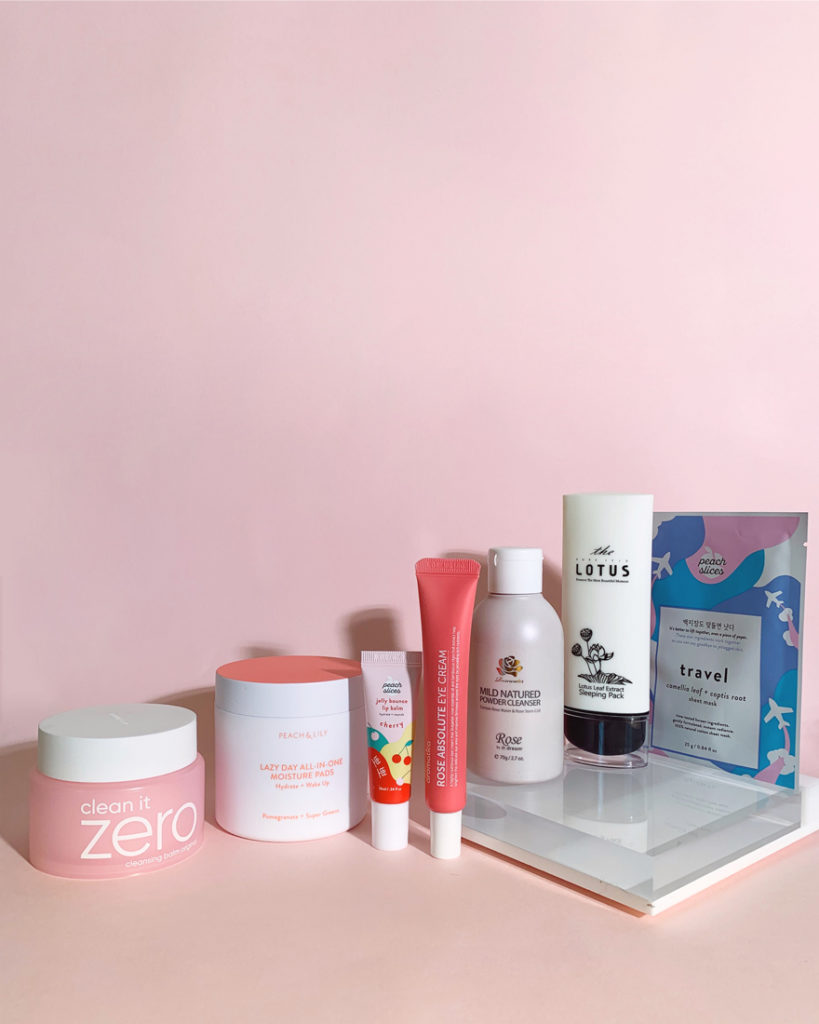 Summer means holidays, vacations, days on the road, and that naturally raises the question of, How do we take our skincare with us? Whether we're flying somewhere or taking the car or going camping, here are seven products that are travel-friendly and make it easy to care for skin!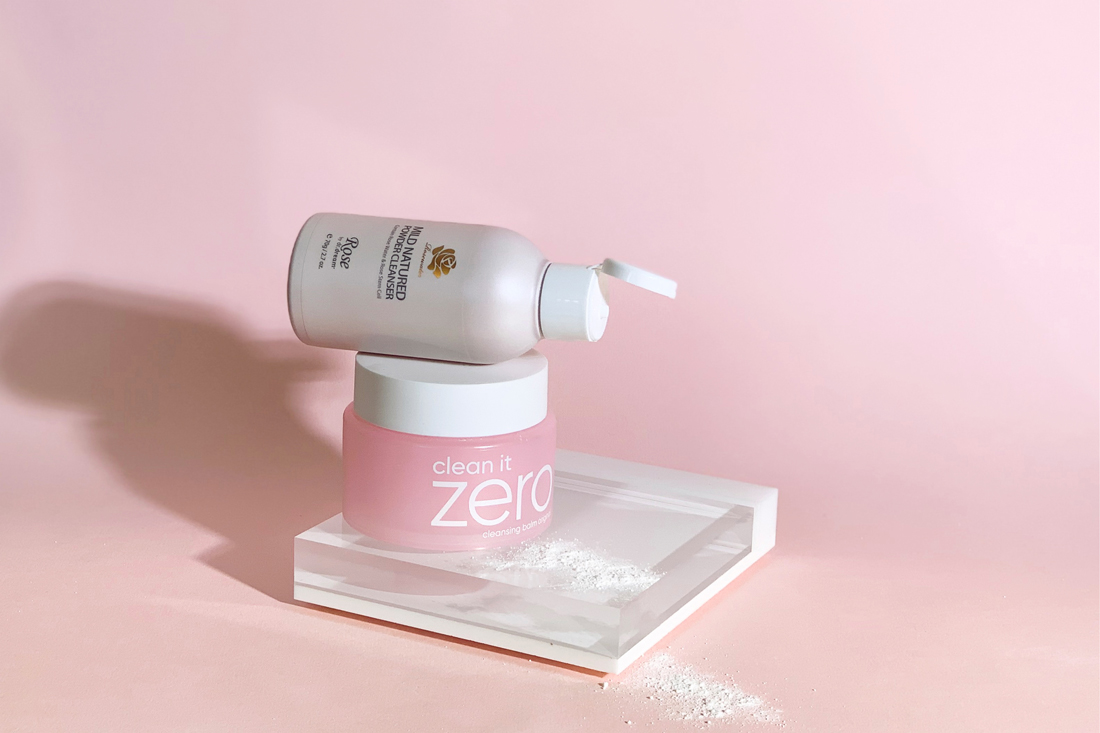 Banila Co, Clean It Zero
This solid oil-based cleanser is great for travel because it's, well, not a liquid. That means it can go through TSA security without problems and, even better, that it removes the potential for drippy messes from cleansing! If you're camping, you probably don't want to be running the risk of an oil cleanser running everywhere, and the Clean It Zero Cleansing Balm is super easy to use—just scoop (using the handy spatula) onto your hands and let the warmth of your face melt the balm into an oil and sweep away all your makeup and oil-based impurities. Make sure to add water to wash everything away before moving on to your second-step, water-based cleanser.
Dr. Rose Line Mild Natured Powder Cleanser
This powder cleanser also clears TSA security readily and reduces the risk of your cleanser exploding or squeezing open in your bag somewhere. Free of preservatives and sulfates, the Rose Line Mild Natured Powder Cleanser both effectively cleanses and helps nourish skin, and it's super easy to use. Just shake a spoonful's worth onto your hands and mix with water, lathering it up in your hands before massaging onto damp skin.
Our special tip? This cleanser can also pull double-duty as an exfoliator! If your skin feels in need of some mild exfoliation, use less water with this powder cleanser! With less water, the powder won't lather into a foam but will retain some of the powdery grit that's perfect for some super gentle physical exfoliation.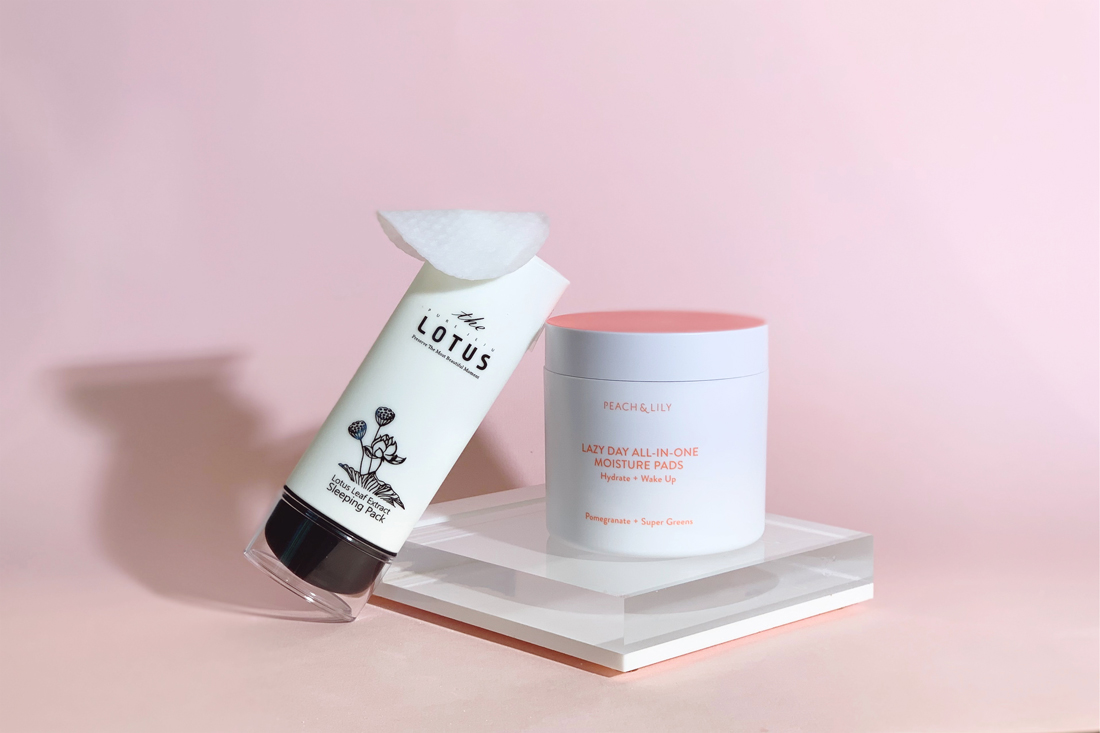 Peach & Lily, Lazy Day All-in-One Moisture Pads
Why carry three products when you can carry one? The Peach & Lily Lazy Day All-in-One Moisture Pads are a toner, serum, and moisturizer in one! These pads are made from a soft cotton blend and have been soaked in a blend of super vegetable and fruit extracts, so it's like applying the healthiest green juice to your face. Because these Lazy Day Pads are pre-soaked, they're also TSA-friendly and so convenient to apply — after cleansing, take a pad, swipe it all over your face, and pat any excess liquid in.
The Pure Lotus, Lotus Leaf Extract Sleeping Pack
If your skin is in need of a boost, the Lotus Leaf Extract Sleeping Pack goes to work while you sleep. At 70 ml, it's TSA-friendly, and the twist cap (as opposed to a pump) and sturdy packaging make it travel-friendly with less risk for mess. The sleeping pack has a light texture that sinks into skin, helping deliver deep hydration and relieve tired and stressed skin, so you can wake up glowing, ready for your next day of travel.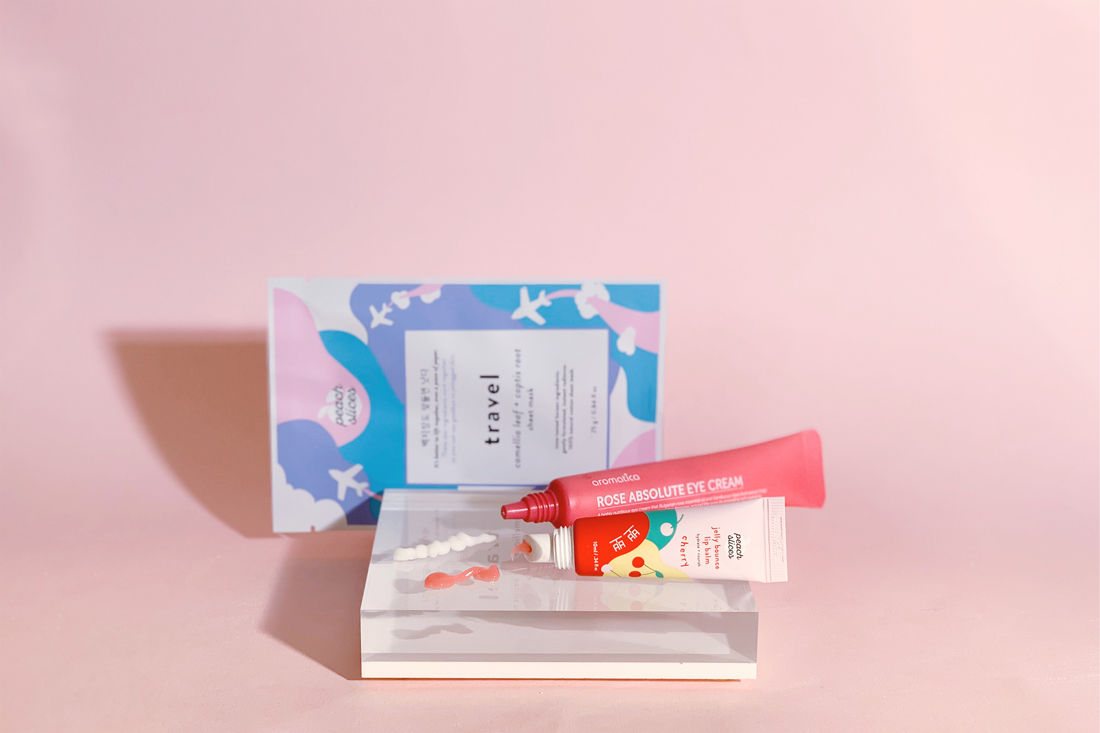 Aromatica, Rose Absolute Eye Cream
Don't forget your eye cream! Holidays, while exciting, can also be tiring, and an eye cream can help your eye area look more awake. The Rose Absolute Eye Cream is water-free, formulated with a base of aloe and fortified with Bulgarian rose oil and organic Argan oil to help hydrate the eye area. Niacinamide helps brighten, so this eye cream can help keep those dark circles and shadows away.
Jelly Bounce Lip Balm, Cherry
Lips have no sweat glands or oil glands of their own, so they can be easily prone to drying out, chapping, and, even, peeling. The Peach Slices Jelly Bounce Lip Balm in Cherry is a juicy, delectable way to keep lips hydrated no matter where you go!
Travel Sheet Mask
You really can sheet mask everywhere, and Peach Slices has a sheet mask specially formulated to meet the concerns of tired and/or jet-lagged skin. The natural cotton sheet mask is soaked in a unique blend of bamboo water, centella asiatica extract, ginger root extract, aloe, and ceramides to help hydrate, calm, and recharge skin. Take one or ten with you, and sheet mask while waiting for a flight, chilling in the back seat of a long drive, or lounging by a campfire after a hike.
—
We hope that helps give you some ideas for travel-friendly skincare! Tell us in the comments below — where are you headed this summer?