Glass Skin and Pure Beam, A Dream Pair.
June is the one-year birthday of the Peach & Lily Glass Skin Refining Serum, but it's also Acne Awareness Month. Glass Skin, in and of itself, can help with acne-prone skin by deeply hydrating and helping calm inflammation, but it also plays well with other products to help prevent acne and balance skin.
In particular, Glass Skin pairs well with the Peach & Lily Pure Beam Luxe Oil, a blend of six plant-based, cold-pressed oils (and vitamin E).
Right off the bat, we're sure you're wondering:
Why are you recommending an oil, even for acne-prone skin?
It might seem counterintuitive because excess oil can contribute to clogged pores and, ultimately, to acne. It's true that there are bad oils that can do just that, but there are also good oils that can actually help balance skin, regulate excess sebum production, and properly hydrate skin. There are a few ways oils can do that.
Studies show that the sebum of people with acne-prone skin tends to be thicker and stickier than "normal" sebum, and that texture can contribute to clogged pores. This thicker, stickier sebum is higher in oleic acid, a monounsaturated fatty acid that's heavy and super occlusive, so it can block the entrance to pores, trapping oil and bacteria inside.
One way to help balance sebum and make it thinner in texture is to introduce more linoleic acid. Topically, you can do that by using a facial oil that is higher in linoleic acid, an unsaturated fatty acid that helps thin out the thick, sticky sebum common to acne-prone skin. Oils like grape seed oil, safflower seed oil, and rosehip oil, amongst others, are high in linoleic content.
Another way to help balance sebum production is by using oils that mimic the molecular structure of human sebum. These oils can "trick" sebaceous glands into thinking they've produced enough, thus helping stop the excess production of sebum. Jojoba oil, squalane, and sea buckthorn oil are examples of these kinds of balancing oils.
How often should I use a facial oil?
Every day if you'd like! We recommend using just 1-3 drops — a little bit of oil tends to go a long way. You can either apply it directly to skin after you apply your serums/ampoules, or you can mix it into your moisturizer.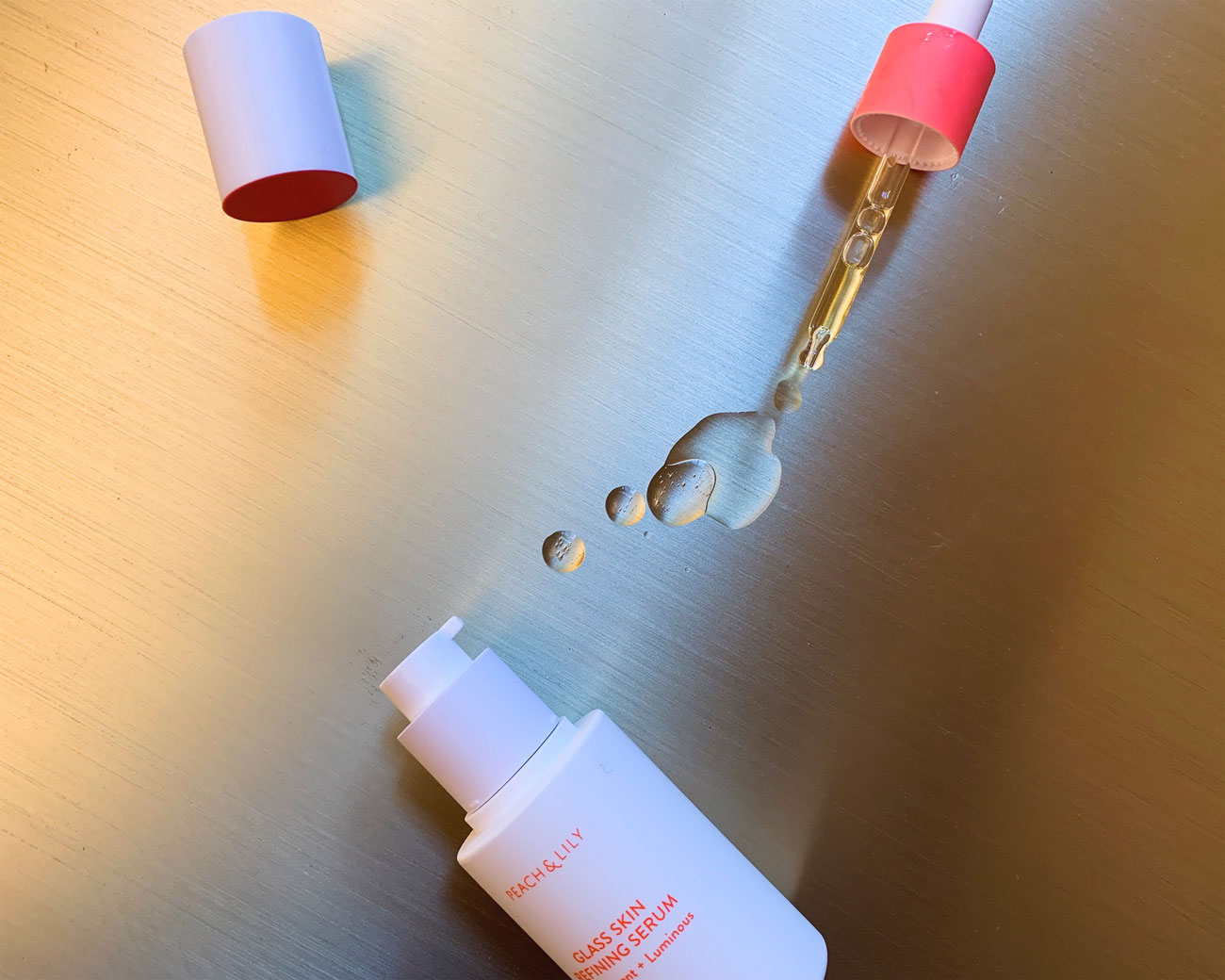 Why are you recommending these two products?
If the Glass Skin Refining Serum helps provide skin with essential nutrients and antioxidants, the Pure Beam Luxe Oil helps provide skin with essential lipids.
Pure Beam contains only seven ingredients: jojoba oil, squalane, grape seed oil, camellia japonica seed oil, sea buckthorn oil, olus oil, and vitamin E. Let's break down a few of the main oils.
Jojoba oil is technically a wax, but it's liquid at room temperature. It's similar to human sebum, so it can help balance sebum production. It's also high in vitamins and antioxidants, and it has natural antimicrobial qualities, which makes it good for acne-prone skin. It's also suitable for sensitive skin.

Squalane is a naturally-occurring substance in our bodies, though it's called "squalene" in the body. Squalene, however, is unstable and will oxidize when exposed to air, but squalane, a byproduct of squalene, is highly stable. It's non-comedogenic (aka doesn't clog pores) and readily absorbs into skin, helping support the natural skin barrier.

Grape seed oil is high in linoleic acid, which helps thin out the thicker, stickier sebum common to acne-prone skin types. It is also non-comedogenic.

Camellia japonica seed oil is also known as tsubaki oil, which is rich in oleic acid and vitamins A, D, and E. It is a lightweight, dry oil that is non-comedogenic, and it contains more antioxidants than any other botanically-derived oil. It helps soften skin, and its molecular structure means it absorbs quickly into skin.

Sea buckthorn oil is an incredible source of the rare omega-7, an essential fatty acid that helps skin retain its firmness. It also helps balance sebum production, and it has natural antibacterial and anti-inflammatory qualities that make it particularly good for acne-prone skin.

All the oils in Pure Beam are plant-based and cold-pressed, and, altogether, it helps balance skin, whether by hydrating dry skin, helping regulate sebum production in oily skin, or boosting the natural skin barrier. An intact skin barrier is key to healthy skin because it helps skin retain hydration, nutrients, and balance. That, in turn, can help stave off breakouts and calm acne-prone skin.
Of course, this pairing is also great for all skin types! Together, Glass Skin and Pure Beam work together beautifully to help provide skin with all the essential nutrients, hydrators, and lipids it needs to thrive, helping you get closer to the glass skin of your dreams, skin that is so healthy and hydrated it appears poreless, luminous, and translucent.
—
We hope that was helpful! If you have any questions, please leave them in the comments below!