Tips From a Bride for Brides.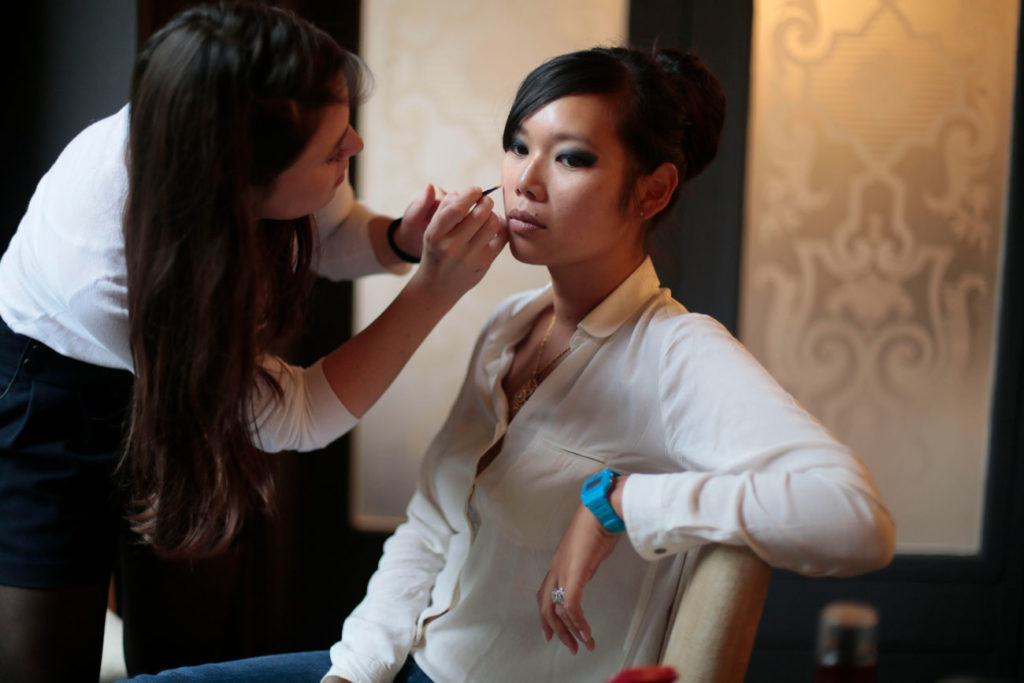 Summer is on its way in, and temperatures are getting warmer — wedding season is upon us.
We know it can be stressful preparing for a wedding, especially because life doesn't stop just because you're getting married. Most of us have to juggle full-time jobs, families, and other day-to-day life stuff while planning for our big days, and everything combined can have an effect on our skin.
We asked one of our team members, Nathalie, for her advice. She planned her wedding while also juggling other major life transitions. Here's what she said.
How long did you have to prepare for your wedding?
Six months! I wasn't only planning my wedding — I was also renovating my apartment and starting a new, very demanding job, so I had a lot of stressful things going on at once. I'm not someone to just let go and let someone else handle things, either, and I'm a frenetic planner who's meticulous about all the small details. I had to taste everything, too, from the champagne and wine to all the food we were going to serve, and, of course, all the tastings affected my skin.
To add to that, let's admit it — few people actually sleep the number of hours required by our bodies, even when they're not planning a wedding, and I'm no different. So, the lack of sleep, high levels of good stress, all the tastings — my skin started developing different issues.
Did you follow a strict routine?
I was super cautious with my skincare routine, and I made sure to cleanse my face thoroughly everyday, never ever leaving makeup on. In the morning, I used a toner lotion, serum, and moisturizer, and, in the evening, I did the same thing, just swapping the moisturizer for a cream and adding a mask.
Because my skin was reacting so much to all the stress, my solution was to mask everyday. I'd even check in on my apartment renovations while wearing a mask because, sometimes, that's the only time I had to mask.
What about your bridal party?
I sent my same routine to all my bridesmaids! They were under strict command to cleanse thoroughly and do masks and follow my routine.
Did you do anything special on your wedding day?
Not really. I made sure to cleanse thoroughly the night before and use a hydrating overnight pack, but, on the day of, I left things to my makeup artist. It's important to hire and test a makeup artist you trust who knows your skin.
Skin isn't perfect, though, and it can always potentially react on the big day. I prepared a wedding rescue kit just in case, with acne spot treatments, a hydrating mist, and a super nourishing balm for dry patches. Including elbows. You don't want to walk down the aisle with ashy elbows.
Any tips for our readers?
There's no perfect scenario! You should of course try to get plenty of sleep every night and eat healthy and drink a lot of water, but planning a wedding and working at the same time can be really stressful. That's why it was important for me to establish a routine and stick to it every day — having a routine I knew and could commit to meant my skin was one less thing for me to stress about. Cleanse thoroughly and stick to products that really support your skin. And use whatever time you have to do masks!
On your wedding day, delegate the really big tasks to your bridesmaids. Your wedding is your day, and you should be able to enjoy it!
—
Thank you, Nathalie!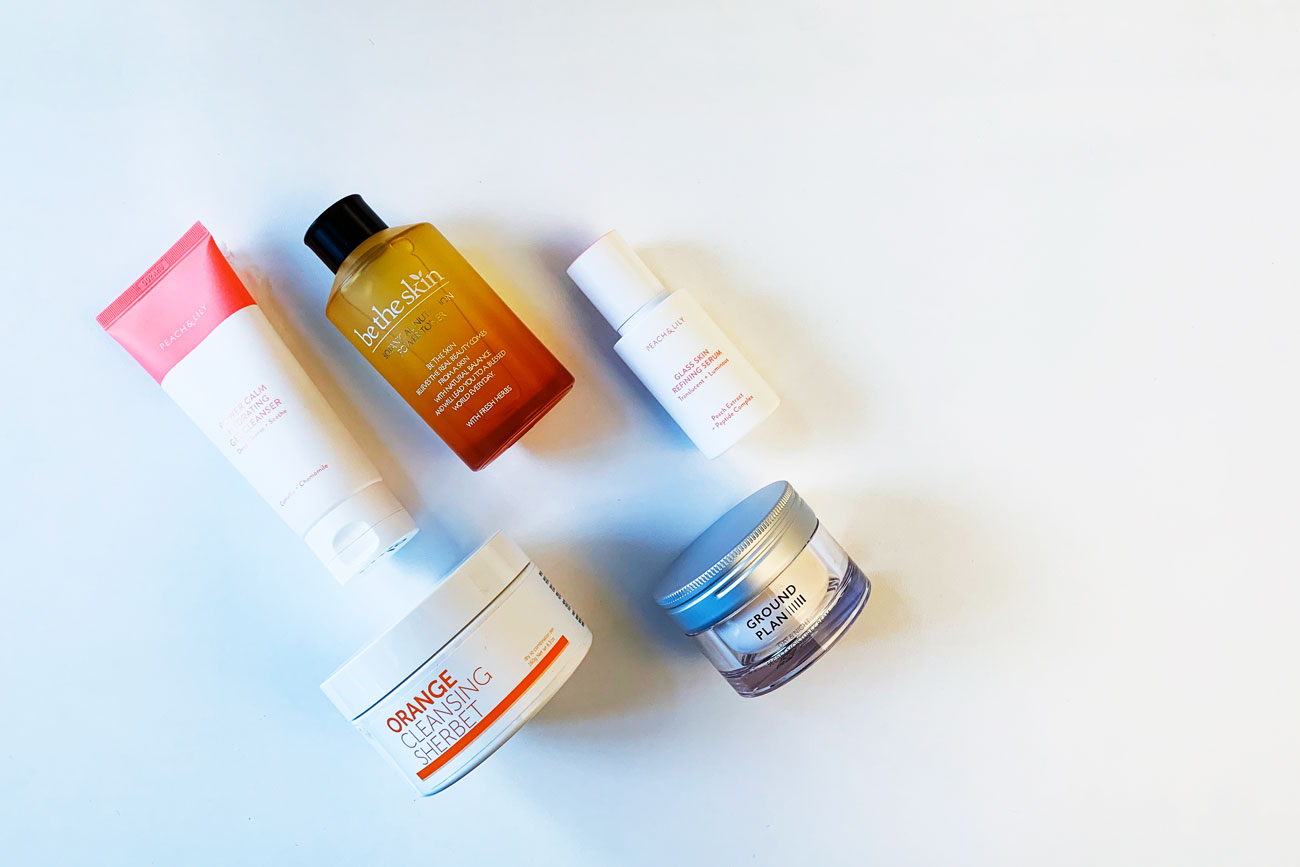 Here are a few products she recommends:
Aromatica, Orange Cleansing Sherbert
Nathalie really stressed the importance of thorough cleansing, even on nights she was exhausted. She's committed to the double cleanse, recommending this oil-based cleanser from Aromatica because it starts in solid form, with a sherbert-like texture that scoops out without mess. It melts onto skin, dissolving away makeup (even waterproof makeup!) and impurities while also hydrating, so skin is left calm, clean, and supple.
Peach & Lily, Power Calm Hydrating Gel Cleanser
Follow up with a water-based cleanser! Nathalie likes the Power Calm Hydrating Gel Cleanser because it's gentle and calming. A cooling gel texture, the Power Calm Cleanser clears away sweat, grime, and any other remaining impurities without stripping skin dry.
Be the Skin, Botanical Nutrition Power Toner
Keeping skin balanced is key to keeping skin healthy and happy. This Be The Skin Botanical Nutrition Power Toner is alcohol-free and helps balance the pH level of skin while also deeply hydrating.
Peach & Lily, Glass Skin Refining Serum
Nathalie couldn't stress nourishing skin enough, recommending a serum like the Peach & Lily Glass Skin Refining Serum — it just makes it so easy to give skin the deep support it needs. Full of vitamins, antioxidants, and hydrating ingredients, the Glass Skin Serum helps keep skin healthy and happy.
Ground Plan, Day and Night Secret Moisture Cream
The Day and Night Secret Moisture Cream from Ground Plan is a rich, creamy moisturizer that isn't greasy or heavy, and, as the name goes, it can be suitable for day and night use! If you have drier skin or want more moisture overnight, though, you could always swap this out for a thicker overnight mask.
A few sheet masks she recommends:
Peach & Lily, Good Skin Day for deep hydration.
Atoclassic, Real Tonic Perfect Treatment Mask for days when skin feels sensitive and irritated.
Eco Your Skin, Face Blanket Mask for a truly intensive, deeply hydrating, overnight sheet masking experience.