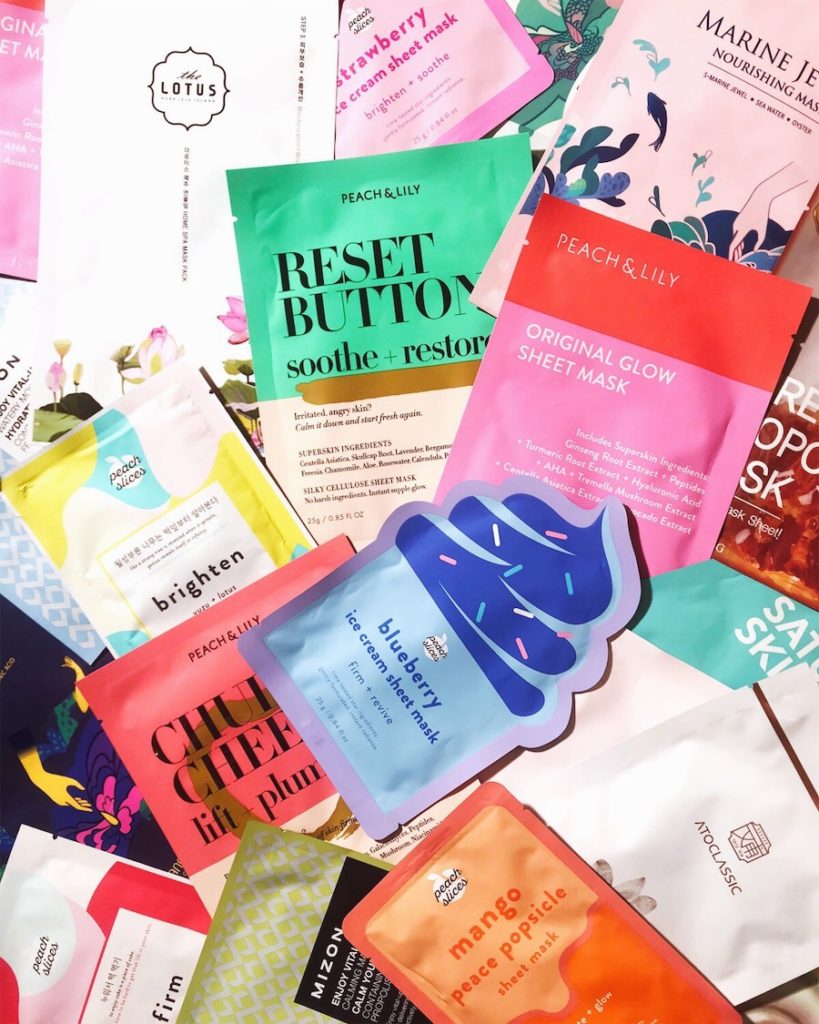 They're everywhere now, in Target, in CVS, etcetera, and you've probably heard of how all these celebrities do sheet masks every day to get their clear, glowing, radiant skin. So, are sheet masks really all they're cracked up to be?

First things first: what do sheet masks really do?
Sheet masks do two main things: they flood your skin with hydration and other active, beneficial ingredients, and they create a barrier over your skin so that those active, beneficial ingredients can better sink into your skin. Most often soaked in an essence, the sheet mask itself prevents all the hydration packed into that essence from simply evaporating away into the air. Instead, because of that barrier, the essence ideally has nowhere to go but into your skin.
Where in your skincare routine should a sheet mask go?
Double cleanse and apply toner first, so your skin is clean, fresh, and balanced. Then apply your sheet mask. Discard the sheet mask, then pat the essence into your skin. Seal everything in with a moisturizer. If you did your sheet mask during the day, follow your moisturizer with SPF. If it's evening, go to sleep.
There's a lot of extra essence in my sheet mask packet. What should I do with that?
After we've cleansed and toned and before we remove the sheet mask from its packaging, we like to pour the extra essence onto our hands and pat it onto our skin — and then apply our sheet mask. Alternately, we'll put our sheet mask on first, propping the package up against something so all that precious extra essence doesn't simply drain away. After we've removed the sheet mask, we'll pour the extra essence onto our hands and pat it onto our skin and neck and chest. If there's more, we like to rub it over our hands and up our arms. There's no reason to waste, right?
How long should I keep a sheet mask on?
15 to 20 minutes, no more than 30. Don't wait until the sheet mask is dry to take it off, and do not keep the sheet mask on when it's dry! When the sheet mask dries out, the dry mask will start to take moisture from your skin, so remove the sheet mask when there's still essence on it! And definitely do not wear a sheet mask to sleep!
Is it better to do a sheet mask in the morning or evening?
Whenever works best for you! Do a sheet mask after you cleanse and tone and before you put your makeup on in the morning (if you wear makeup!), or do a sheet mask at night before you go to sleep. We recommend doing something lighter and more clarifying in the morning and opting for a mask with a heavier, nourishing essence in the evening, so you can take advantage of the reparative qualities of sleep.
How often can you do a sheet mask?
You could do a sheet mask every day. There are Koreans who do two sheet masks a day. We don't think you have to do two sheet masks a day, just like we also don't think you necessarily have to do a sheet mask every day. We would recommend doing sheet masks regularly, though, as often as it works for you.
If I want to do a sheet mask everyday, is there a schedule I should follow?
We recommend alternating between hydrating sheet masks and sheet masks that have more specific, targeted purposes, like anti-aging, pore-shrinking, or brightening, amongst others. Try to give your skin what it needs and what it's asking for, and look for ingredients that target your unique skin concerns.
Does the material matter?
Sheet masks are made in all kinds of materials, from cotton to microfiber to hydrogel to plant fibers, and product developers will select different materials to work better with different essences. For instance, a heavier essence will probably cause thin cotton material to tear, so developers will often pair heavier formulas with more sturdy materials.
When it comes to us, though, the material of a sheet mask is more sensorial and comes down to personal preference. Even here at Pibuu, some of us prefer cotton masks because they feel more breathable, while others of us swear by hydrogel masks, loving how cooling hydrogel feels and how it clings so closely to our faces.
What sheet masks would you recommend?
The Shangpree Sparkling Mask is a fun, sensorial experience, with an effervescent formula that creates a layer of dense foam made of microbubbles. You can actually feel them popping against your skin in little bursts of hydration, and the mask will leave your skin feeling refreshed and bright. We recommend this particularly for dull skin.
The Tosowoong Pure Aloe Mask is hydrating and calming, perfect for use in the morning to give your skin an extra boost before starting the day, and we also like the Peach & Lily Reset Button for mornings, too. The Reset Button mask is perfect for days your skin isn't feeling or looking its best; it will help soothe and reduce inflammation and brighten your overall tone; so you can go into your day without worrying about your skin.
The Abib Gummy Sheet Mask Milk Sticker is great for evenings, and it's unique in that it has been soaked not in an essence but in a thicker, milky cream for extra hydration and softness. Finally, we think you can never go wrong with the Peach & Lily Original Glow sheet mask, which is packed with so many beneficial, nourishing ingredients to get your skin to its, well, original glow.
—
Have any other questions about sheet masks? Leave them in the comments below!