Cleanser textures aren't just about sensorial experiences.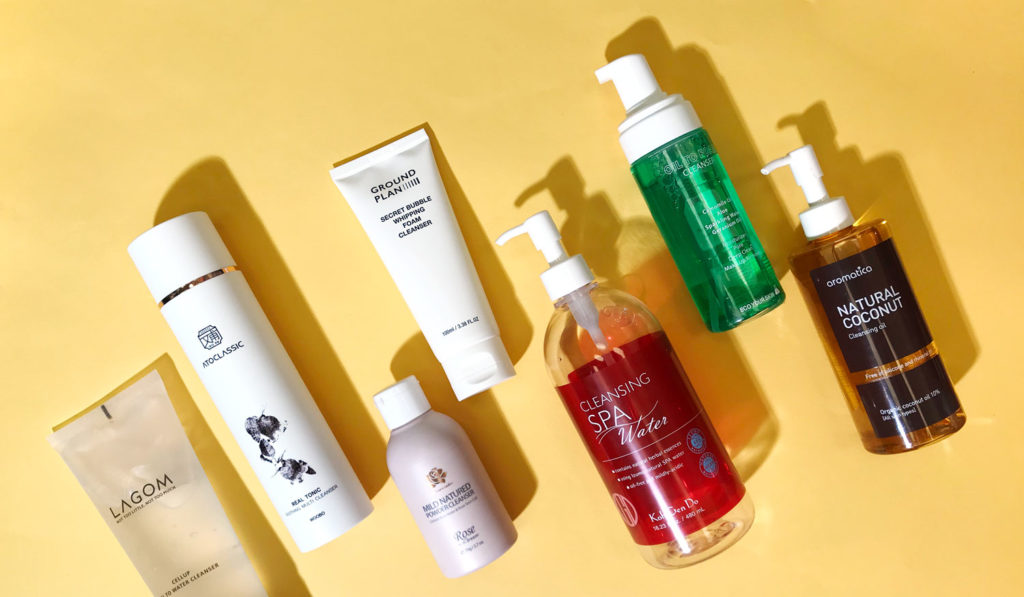 Cleansing is the first step in a skincare routine — and that's an important thing to note: it's not a pre-step to a skincare routine, but the first step. That means that how you cleanse your skin matters.
To start off, you don't actually want to be cleansing your face to "squeaky clean." If your skin is feeling tight and dry after cleansing, you're likely using something too harsh for your skin that's stripping your skin of its natural oils and damaging your skin barrier, the topmost layer of your epidermis, in the process. A healthy skin barrier is key to healthy, glowing skin, and a damaged skin barrier invites dryness, irritation, and inflammation because it can no longer serve its vital function of preserving the moisture in your skin and protecting it from environmental attack.
How do you know what kind of cleanser you should use, though? Is it just about ingredients? Does the texture matter?
While ingredients are important (always, always, always read labels), different textures are designed to work in different ways. Some cleansers are formulated to be more deep-cleaning while others are formulated to be super gentle, while even others have exfoliating properties, and it's important to know both what your skin needs and what type of cleanser is best for your skin type.
Before we get into cleansers, here's a quick primer on skin types.
Dry skin is dry all year round. It's normal for skin to dry out during cold winter months (or hot summer months in dry climates like Los Angeles'), but, if you have dry skin, your skin will feel dry (and, often, itchy or irritated) no matter the season or climate. This is typically because your skin does not produce enough oil.
If you have oily skin, you deal with shine all year round. It's normal for skin to feel more oily during summer months, but you're likely always blotting away shine during the day no matter the weather because your skin just overproduces oil. Oily skin is more prone to breakouts and blemishes, but it's worth noting that having oily skin doesn't mean you're dealing with acne all the time.
Combination skin is the tricky half-sibling to both dry skin and oily skin, and, if you have combination skin, you might have an oily T-zone and dry skin elsewhere, like your cheeks and around your mouth. Or you might have dry patches around your cheeks but have a normal T-zone. Or you might have normal skin everywhere except for your T-zone, which might be dry. Basically, combination skin is a combination of any of the other skin types, and it also means that your skin type might change frequently — some days, your skin will feel more oily, and, other days, it will feel more dry, partly as a reaction to the climate or season you're in.
If you have normal skin, you have, well, normal skin. Congratulations.
Now that we've broken down the four dominant skin types, let's talk about cleansers — six types of cleansers, to be precise. These aren't the only types of cleansers out there, but they are the most common types. You've probably used one or more of these before.
Gel Cleansers
Gel cleansers have the texture of gel (obviously) and are often designed for gentle deep cleansing. They're able to get into clogged pores, helping decongest them and remove excess oil deep within skin, all without stripping skin dry and dehydrating it. Lightweight and smooth, gel cleansers tend to be more gentle and hydrating.
Recommended for oily, combination, and sensitive skin. Also recommended for acne-prone skin.
Recommended products: Lagom, Cellup Gel-to-Water Cleanser; Atoclassic, Real Tonic Soothing Multi Cleanser
Cream Cleansers
Cream cleansers are usually thicker and smoother in texture, packed with moisturizing ingredients, and, when applied to your face, they whip into a smooth cream lather. Cream cleansers work gently without stripping your skin of its natural oils as they're designed to be very gentle and very moisturizing.
Recommended for dry and sensitive skin.
Recommended products: Ground Plan, Secret Bubble Whipping Foam Cleanser
Foam Cleansers
Lightweight in texture, foam cleansers start as cream or gel cleansers that burst into a rich, foamy lather when you pump them into your hand. Because of their light texture, you might think them to be very gentle, but foam cleansers are formulated for that deep cleanse, which means they can sometimes make skin feel drier than other cleansers might.
Recommended for oily and combination skin. Also recommended for acne- and/or breakout-prone skin. Not recommended for dry skin.
Recommended products: Eco Your Skin, Oil-to-Foam Cleanser; Aromatica, Sea Daffodil Cleansing Mousse
Micellar Water
On the surface, micellar water seems like water that just smells nice, but it's not — it's soft water with tiny oil molecules ("micelles") suspended in it. These micelles help attract oil, dirt, and makeup, which helps cleanse skin and remove makeup. Micellar water works great as a first step to help remove and dissolve makeup, sunscreen, and other impurities. We recommend following micellar water with another cleanser because it's not the most recommended to keep micelles sitting on skin.
Recommended for dry and sensitive skin. Also recommended for acne-prone skin.
Recommended products: Koh Gen Do, Cleansing Water
Oil Cleansers
An oil cleanser is highly effective at decongesting clogged pores and removing makeup (including waterproof makeup!) without drying out your skin. Remember that oil attracts oil, which is why oil cleansers are able to go into pores and help draw out oils and gunk that have accumulated in pores — that's why oil cleansers are the first step of the famed double cleanse technique that's an integral part of the Korean skincare routine. After you use an oil cleanser to remove makeup, dirt, and sweat, follow up with a water-based cleanser to clear away water-based impurities and any excess oil and makeup that may have been left behind.
Recommended for most skin types, even oily!
Recommended products: Aromatica, Natural Coconut Cleansing Oil; Banila Co, Clean It Zero Cleansing Balm
Powder Cleansers
Powder cleansers turn into cream cleansers when they come into contact with water, and they provide gentle exfoliation while they cleanse — gentle being the key word here. Powder cleansers are unlike traditional physical exfoliant; they move smoothly against your skin without pulling or scratching or otherwise irritating or damaging your natural skin barrier.
Recommended for oily and sensitive skin.
Recommended products: Dr. Dream, Rose Line Mild Natured Powder Cleanser