Three Sleeping Packs to Sleep Your Way to Better Skin.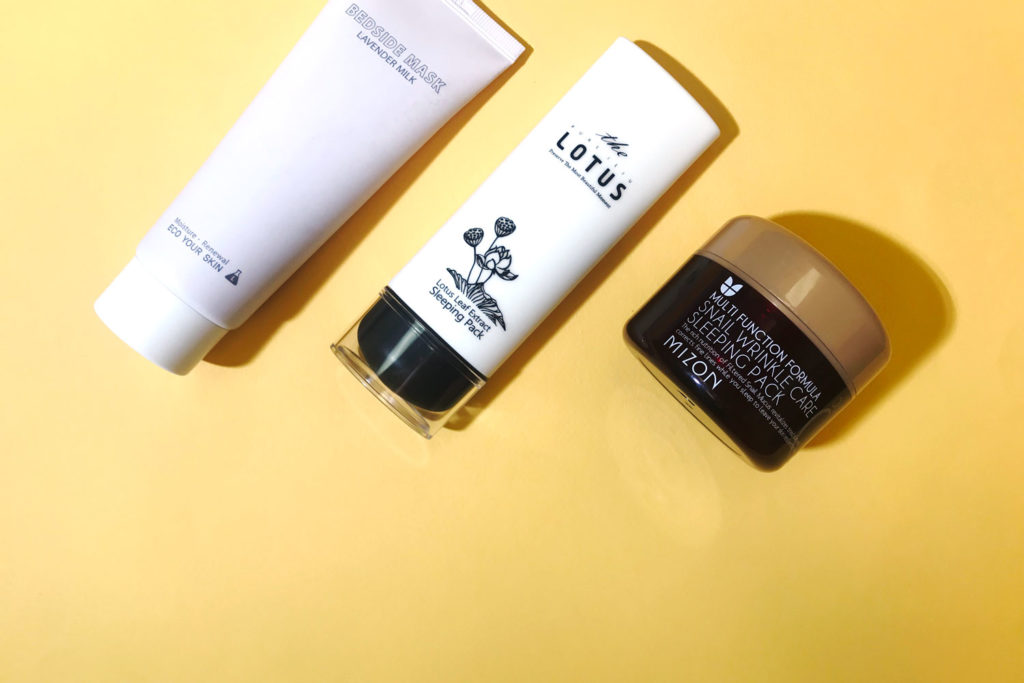 The sleeping pack. What exactly is a sleeping pack? Is it just a really thick night cream? Is it just another name for a mask? Is it different? Why is it such a big deal?
In Korea, the sleeping pack — also called a sleeping mask — is considered essential to optimal nighttime skincare. Korean sleeping packs are at once potent and gentle, an efficient way to deliver beneficial ingredients straight into skin's deepest layers during the body's regenerative sleep cycle, transforming skin from the inside out.
"A sleeping mask is made to provide hydration and nourishment for skin to revive during the time sleeping at night," says Yu Jin Oh, CEO of the Korean beauty brand, The Pure Lotus. "It is a type of product created to reflect how Korean women want to care for their skin not just during the day but also while they sleep."
Why Nighttime?
Who doesn't love sleep?
The great thing is that sleep not only feels good — it also helps our bodies repair from a day filled with skin-damaging stressors. As we sleep, our bodies flush out neurotoxins and produce reparative hormones, instead of the stress hormones (i.e. cortisol) often generated when we're awake. Skin, the largest organ in the human body, similarly experiences these regenerative activities as we sleep, so products that encourage cell turnover and help stimulate collagen production can, ideally, assist our bodies in their natural healing process.
"Skin regenerates itself between ten p.m. and two a.m.," says Bunji, the Sales Director of Mizon, speaking on behalf of the brand's storied R&D team. "Therefore, skincare at night helps your skin stay moisturized and healthy during the day. It is advised to apply a mask before sleeping and leave it on to absorb throughout the night, helping you get more beauty out of your beauty sleep."
Meant to be massaged into skin as the last step in an evening skincare routine (replacing a moisturizer), the active ingredients in sleeping masks penetrate throughout the night. Further, sleeping masks also seal in facial skincare treatments like serums, ampoules, and oils.
When it comes to overnight masking, one of the most important benefits to look for is, of course, hydration. Overnight formulas all contain some sort of humectant, which attract water to your skin and bind water to help hydrate skin from the inside-out, and, according to Nancy Paneer, Peach & Lily's in-house esthetician, humectants are available in both natural and synthetic iterations. Neither is more or less beneficial than the other.
"For example, glycerin is the most common humectant which can be both synthetic or plant-based, which is more natural," she says. "Hyaluronic acid is another popular humectant that's also found naturally in the dermal layers of human skin in the form GAGS or glycosaminoglycans — large protein molecules and water-binding substances found between the fibers of the dermis. There are others like Sodium PCA, sorbitol, seaweed extracts, algae, and propylene glycol, as opposed to European products which have alcohol denat in them."
Now that we've hopefully explained sleeping masks to you more clearly, here are three sleeping packs from a few of our favorite brands.
The Pure Lotus, Lotus Leaf Extract Sleeping Mask
Benefits: Helps hydrate dry skin, fight wrinkles, and prevent free radical damage
Containing 70% lotus leaf extract, this overnight mask comes packed with high concentrations of antioxidants and antibiotics. It features a blend of nourishing botanicals, including a very special lotus leaf extract sourced from Korea's pristine Jeju Island.
"Lotus leaves have a high rate of removing free oxygen radicals, which destroy skin's collagen layer and cause blemishes and freckles, resulting in premature aging," says Oh, adding that the brand is in the process of securing an antioxidant patent. "Lotus leaf extract has powerful antioxidative effects."
The Lotus Leaf Extract Sleeping Mask is also an excellent hydrator. Soft and buttery in texture, it has ingredients like shea butter, aloe leaf extract, and panthenol. Describing the texture, Oh says, "It has more weight to it than a day cream but is lighter than a night cream. It's formulated to be long-lasting, thanks to a gel network made with water-soluble ingredients that provide hydration, along with oil-based ingredients that provide nourishment and build a hydration shield."
According to Oh, the mask's "refreshing" texture has been formulated to keep the mask on your skin, rather than on your pillow. "One of the common complaints when using sleeping packs is that they become more solid over time and smudge the pillow while sleeping," she says. "The Lotus Leaf Extract Sleeping Mask has eliminated this inconvenience and gives only you moist skin after sleeping."
Eco Your Skin, Lavender Bedside Mask
Benefits: Provides gentle exfoliation and long-lasting hydration
This Lavender Bedside Mask is a calming lavender and milk formula that's been blended with milk proteins and salicylic acid. As you sleep, thanks to the lactic and salicylic acids, it gently exfoliates away dead skin cells, so you wake up to a calm, clear complexion. The lavender extract adds elements of aromatherapy, making this sleeping mask ideal for those who struggle with stressful days and restless nights.
Shanho Jin, Eco Your Skin's Director, says, "The Bedside Mask tidies dead skin cells and regenerates skin while providing synergy during sleep. It is made with ingredients that become more effective with time, especially salicylic acid, which slowly tidies dead skin cells while you sleep, and protein ingredients that help regenerate cells. As it is in activation mode for 4 to 5 hours, the mask is best to apply right before sleeping."
The skin-soothing formula also includes 15 amino acids that help prevent loss of elasticity, while helping brighten and tighten your overall complexion. Meant to help address issues brought on from irregular sleeping patterns, this mask works on tired skin to undo the day's damage and restore a healthy glow.
"The Bedside Mask purifies skin that's been stimulated by harmful external elements," continues Jin. "Tired skin loses hydration and nourishment, which leads to a loss of elasticity and an uneven skin surface due to dead skin cells. It creates a negative cycle and interferes with skin's ability to breathe. It is important to remove dead skin cells and provide enough hydration and nourishment for skin to relax."
With a relaxing floral scent, this mask is fast-absorbing and lightweight and leaves behind a subtle matte finish. Use it as the last step of your evening skincare routine before bed or apply over a moisturizer if your skin is feeling particularly dry.
"The soft lavender scent as you massage the product onto your skin will also help relax your mind and aid in a good night's sleep," says Jin. "The next day, after dead skin cells have been managed, skin becomes more silky and ready for applying makeup."
Mizon, Snail Wrinkle Care Sleeping Mask
Benefits: Helps combat breakouts, rough texture, dark spots, and fine lines
If you're familiar with Korean skincare, you've probably heard of Mizon. Mizon went viral years ago when they launched their famed All-in-One Snail Repair Cream, and now they have an entire product line featuring that celebrated K-beauty ingredient, snail extract.
Mizon's Snail Wrinkle Care Sleeping Mask is part of that line, and it's a power-packed blend of 50% snail extract, 4 types of peptides, and a medley of botanical and herbal extracts.This gentle-yet-potent mask works by targeting fine lines and wrinkles while you sleep because it sends peptides and adenosine deep into skin to help plump things up as you sleep, and, as a whole, the mask helps firm skin, increase elasticity, and, most importantly, hydrate, hydrate, hydrate.
"The Snail Wrinkle Care Sleeping Mask gives skin energy, wrinkle care, and elastic improvement," says Bunji. "It contains shea-butter and honey extract, which forms a moisturizing layer on your skin, so you will feel very moisturized and relaxed. It's good for all skin types, especially for dry and sensitive."
Another benefit of snail extract is the decreased appearance of dark spots and acne scars. If you have troubled, congested skin, this is the sleeping pack for you — and, before you ask, snail extract is sourced ethically and, in fact, is generated only when the snails are feeling happy and peaceful.
—
What are some of your favorite sleeping packs?