All the Products Team Peach & Lily is Taking This Summer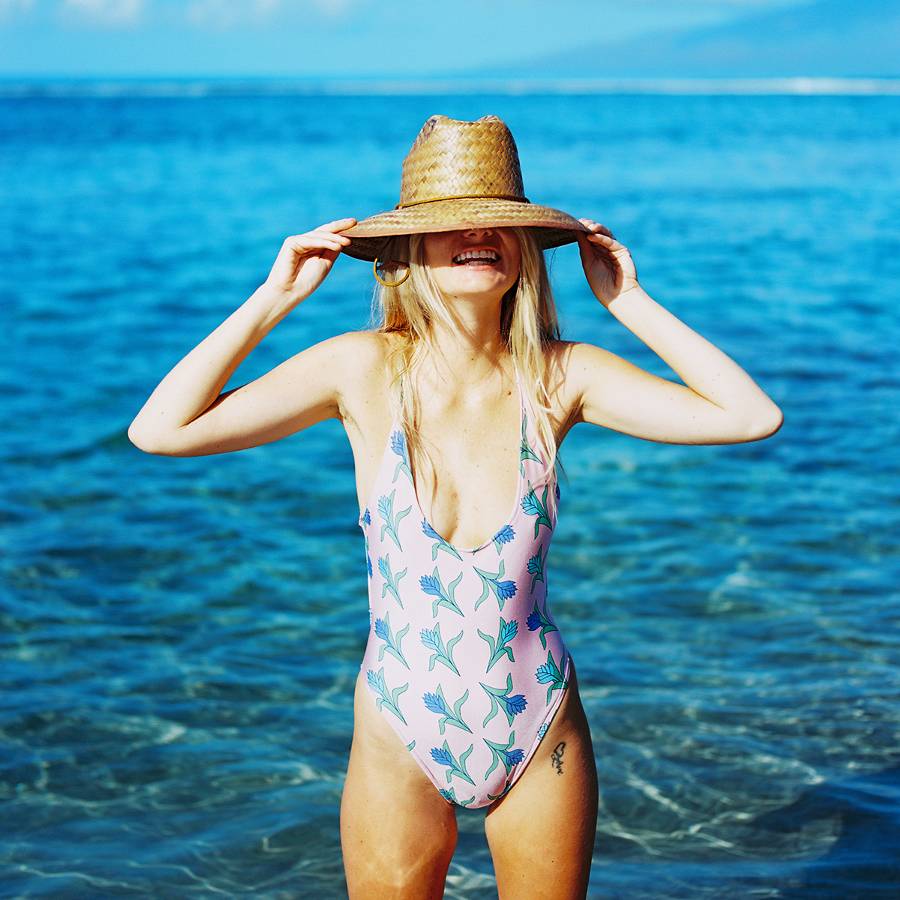 Here at the Peach & Lily HQ, we know our product lines quite well. I mean, really well.
Whether it be through working on the supply chain, business relations, or marketing, Team Peach & Lily is living and breathing these products. And while we can't complain about our access to dozens of our amazing serums, moisturizers, cleansers and masks, it's oftentimes hard to narrow down our favorite products. I'm not even talking about holy grail products, because let's be real, those come from extensive rounds of trial and error. But, what we can identify are those products we know will be with us through changing times. They're reliable and convenient — so much so that we're taking them with us on our travels wherever summer takes us.
Also, I should disclose that we did not plan our answers — there are just some products that are so universally loved and seriously made for summer weather. Whether you're gallivanting overseas or staying put this summer, these are the products that should be on your radar for a radiant summer glow.
Who: Alicia Yoon, CEO
Where: Jeju Island in June
What: I'm carrying my full routine, but here are two highlights:
Eco Your Skin Layering Essence in the Moisturizing flavor because it's going to be hot with a lot of exposure to sun, which can all lead to skin getting dehydrated.
Peach Slices Citrus-Honey Aqua Glow as I need a moisturizer that'll both serve me well in a dry flight (it's super hydrating and it doesn't pill when I layer on a few layers) or use one layer on the Island (and it's so lightweight that it won't feel heavy or be too much for the humid weather). I need a travel-friendly versatile moisturizer so this is definitely making it into my travel bag.
Who: Fei Li, Operations Manager
Where: California, end of May
What: Peach Slices Citrus-Honey Aqua Glow – It's a great moisturizer for summer – super light and refreshing.
SaturdaySkin Daily Dew Hydrating Essence Mist: Goes along with the theme of light and refreshing. I like to keep my skin dewy and hydrated.
Who: Estefanía Hyon, B2B Accounts & Strategic Partnerships Manager
Where: I don't have travel plans yet
What: Koh Gen Do Cleansing Water Cloth – love these, they remove absolutely everything
Abib Hydration Gel Water Tube – it's really light and works great as base moisturizer before makeup
Who: Shannon Ng, Graphic Designer
Where: I don't have travel plans yet
What: Abib Hydration Creme Water Tube because it's really easy and convenient. I's also really Instagram worthy.
Peach & Lily Reset Button Mask because my skin gets irritated really easily and the mask always calms my redness but also leaves it hydrated.
Who: Jacqueline Paccione, Executive Assistant & Office Manager
Where: Spain
What: Peach & Lily Reset Button Mask is incredible for in-flight or post flight! It helps to calm the skin & restore hydration (and of course, glow)!
Acne Spot Dotsfor those little blemishes that always seem to pop up.
Abib Hydration Gel Water Tube is the perfect moisturizer that's also travel friendly, which is a bonus! It includes all natural ingredients, no harsh chemicals, is completely lightweight and perfect for summer time.
Who: Sejin Hwang, Business Development Manager
Where: Shanghai, June
What: Because it will be hot and humid in Shanghai, I will take Abib's Hydration Gel Water Tube to use during the day as it's both light and hydrating without making my face feel too heavily covered. I will also take Femmue's Ideal Oil which I can use by itself or blend with Hydration Gel to give my skin the proper treatment it needs to recover and deeply hydrate overnight ready for the next day.
Who: Mina Youn,COS, Talent, B2B & Strategic Partnerships
Where: Acadia National Park, August
What: Ariul Purefull Cleansing Tissues – I love how well it removes makeup and grime. They're easy to carry around and smell great!
Peach Slices Citrus-Honey Aqua Glow because it keeps you hydrated without making you feel or look greasy. It's perfect for the summer when you don't want anything heavy or sticky to layer under your sunscreen.
Ground Plan 24 Hour Secret Mist – it's refreshing, cooling and soothing, which is perfect for when you're in the sun a little too long.
Who: Laura Jung, P&L Community
Where: Northern Italy
What: I'll always have on me the Ground Plan 24 Hour Secret Mist. The smaller size will fit in any bag to pull out on the go whenever you need that midday (or hourly, really) pick-me-up. The Eco Your Skin Hyaluronic Acid Booster Serum is light, small and contains just the right amount of serum for a week-long trip.
Who: Suzanne Sarmadi, Customer Service Associate
Where: Aruba
What: I definitely will be taking the May Coop Mini Raw Sauce, because it is small enough to travel and intensively hydrates and nourishes the skin after being out in the hot drying sun. I will also bring along the Reset Button Soothe & Restore Mask, for getting a lot of sun exposure to the face, which has all calming ingredients in it.
And finally, the team member who has the most say about their summer routine…
Who: Edward Scott, Husband
Where: Utah
What: I am fortunate enough to have access to whatever Alicia brings with her, which is a lot. We happen to have similar skin types, which is very convenient (and adorable?). If I am traveling alone, I look to multi-tasking products. For cleansing, a simple bar soap in a plastic bag. I use our Abib Facial Soap Black Brick, which gives me benefits of both oil-based and water-based cleansing in one. I like to leave the lather on my face for 30 seconds or so to get the full effect. I often use it for the rest of my body, too, which is a decadent perk of my relationship with Peach & Lily. I also like the SRB Rice Bran Powder Wash, which Alicia normally has on hand. There's no liquid so it's no problem at airport security. Toner/essence is tough – often they are too big to carry on. My all-time favorite – Be The Skin Nutrition Power Toner– falls in this "too large" camp. Often I will bring the Mini May Coop Raw Sauce, instead – toner and essence in one in compact package. For serum/moisturizer there is one clear choice: Peach Slices Citrus-Honey Aqua Glow. It's a delightful product and perhaps the best performance/price ratio in all of skincare. That's it. Happy travels.
And there you have it! All that you need to carry all summer long.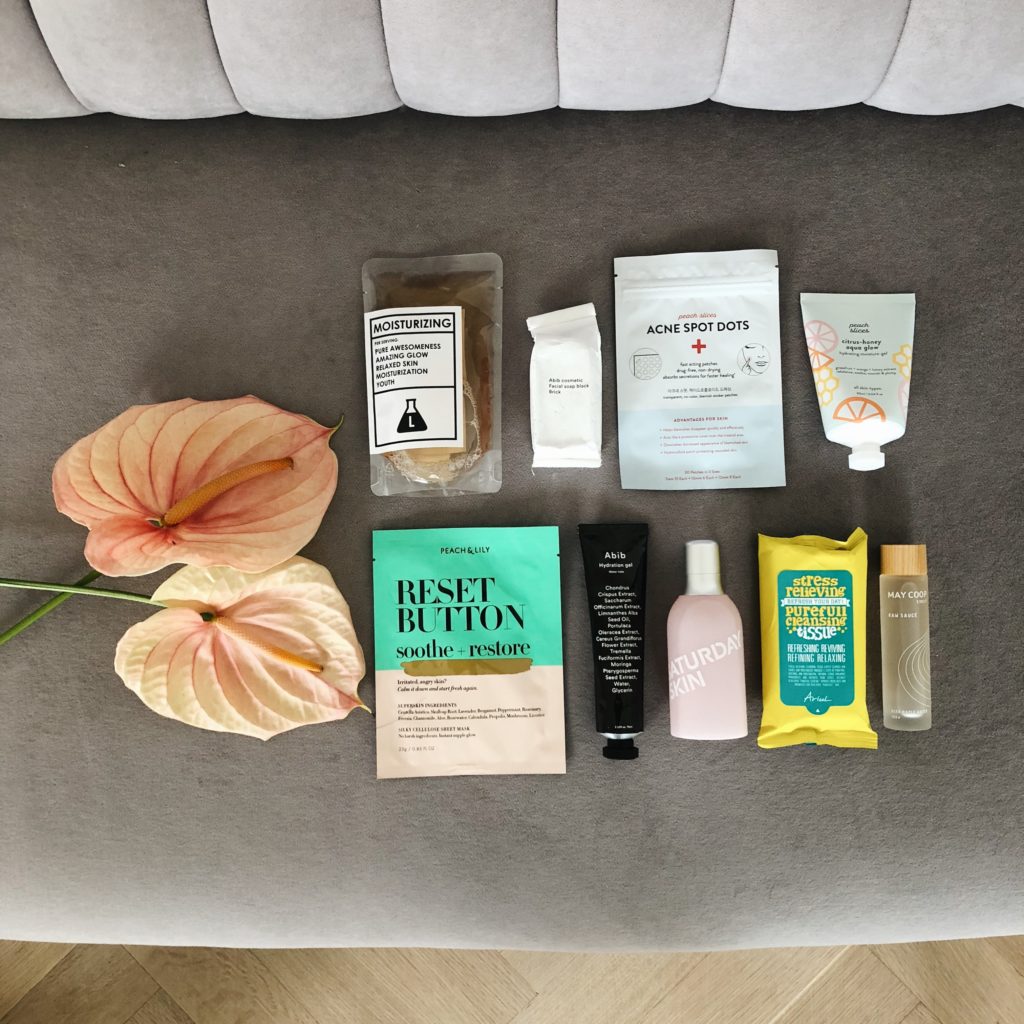 Feature Image Courtesy of Stocksy.com