Skin Acceptance: Dealing with Hormonal Acne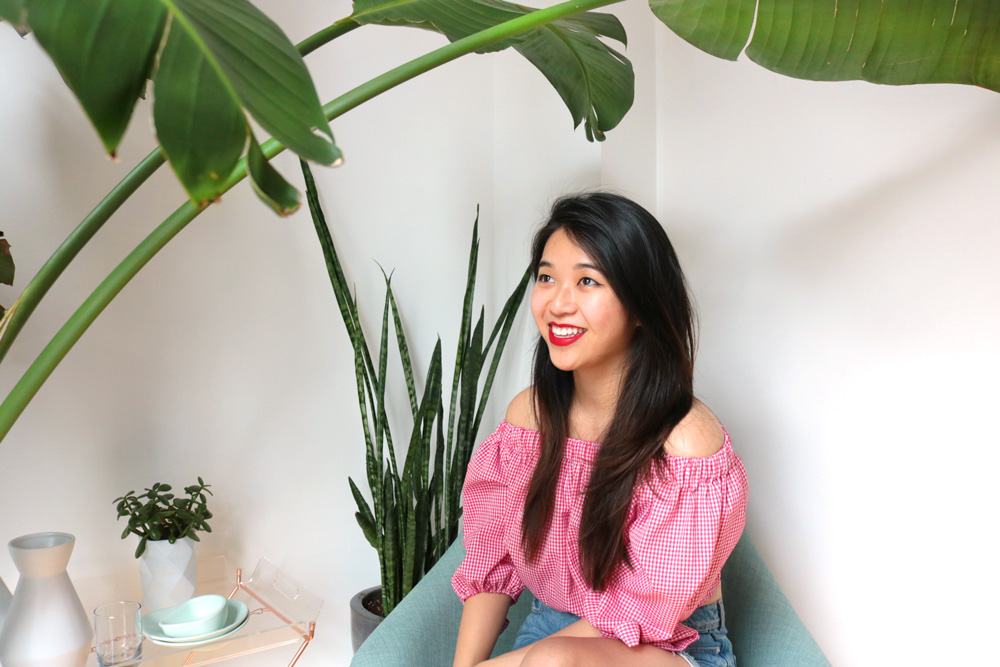 Welcome to the Skin Acceptance series. As we explore the best ways to treat skin, we also know feeling good in your own skin is deeply personal. Here, we take a look at first person experiences because feeling beautiful is anything but skin deep. 
Like many people in their mid-twenties (unless you happen to be one of the many #blessed) I would not consider high school to have been my prime, at least not regarding my appearance. Among my affinity for the most basic of outfits (sweatshirt, skinny jeans, and converse sneakers almost daily), and self-cut bangs that refused to grow out, whenever I'd look in the mirror, I'd see little white heads looking back at me. Now, I didn't always have white heads and in fact I had never really ventured into skincare or cosmetics besides Grapefruit Neutrogena face wash, occasional sun screen, and my signature winged eyeliner. However like many experience with puberty, my white heads appeared one-by-one, and then altogether. Mostly dotted around my head or spotted near my t-zone–I think mostly because of my lovely side bangs.
Now in retrospect, I believe that the acne I had was largely hormonal sebum over-production but because (TMI, I'm sure) my period was never at regular time-intervals, I didn't put two-and-two together. When I was in high school, Proactive skincare commercials still played pretty often, and I had friends that used it regularly. Buying into the hype, and not really have done much research I decided to try it. It was a huge mistake. After a week or so of using it, I would find my skin peeling at the cheeks and no moisturizer could soothe the dry stinging feeling. It could be that the benzoyl peroxide was too strong for my skin, or that I was merely allergic, but all I know is that it was probably the lowest point my skin was at. Fast-forwarding to the introduction of birth control that regulated my hormonal cycle and in part, now working at Peach & Lily. I have finally figured out both what triggers my acne and how to properly monitor and care for my skin.
Because I had acne, I was inclined to believe that my skin type was combination or oily. It's difficult to determine whether this changed or not after birth control pills, or my skin was over-producing acne because of how dry it was, but using skincare products that suited me became key to my overall skin health. I can pretty much narrow down when exactly I will get pimples down to the day. If I am looking at my birth control pack, if there are 8-5 pills left, chances are I will feel extra oily (like I need to wash my hair a day earlier than normal) and there will be 1 or 2 small white heads that'll pop up right near my mouth and maybe some cystic acne around my hairline. I'm fortunate enough to have spots that don't appear in groups like they did in high school, however I scar super easily if I pick at my spots; to resist the temptation I love to use the
Peach Slices Acne Spot Dots
(also the debris extracting effect is super cool).
I naturally have dry skin so otherwise I like to
hydrate-hydrate-hydrate
with my products. But for my PMS-induced-extra-shiny-skin, I like to use a tea tree face wash, like the
aromatica Tea Tree Balancing Foaming Cleanser
and I switch to a more pore-targeting toner like the
Be The Skin Botanical Pore Toner
so I feel extra clean. Also, if I'm at my parents home, my dad likes to use those salicylic acid Oxy pads that may be super strength (so sensitive-skin beware), but they work
wonders
 for drying out my acne and make my face feel super clean. I just have to use a moisturizer right after. Recently, I've been going to the gym a lot–it's only been a couple months but now that I'm in a rhythm I don't think I'll stop going regularly.
However,
 I don't love the body blemishes that has appeared because of the chafing of my bra strap and overall heightened bacteria exposure. To remedy that, I love to use the
April Skin Magic Stone
on my body as well as my face! It helps to rid of the spots and calm them down.
Lastly, wash your phone. Because I live in Manhattan and ride the subway twice a day…Well if you've ever ridden it, you know what I'm talking about and you never know what your hands are touching. Just disinfect your phone to rid of bacteria every once in a while.