How to Prevent
and Treat Bacne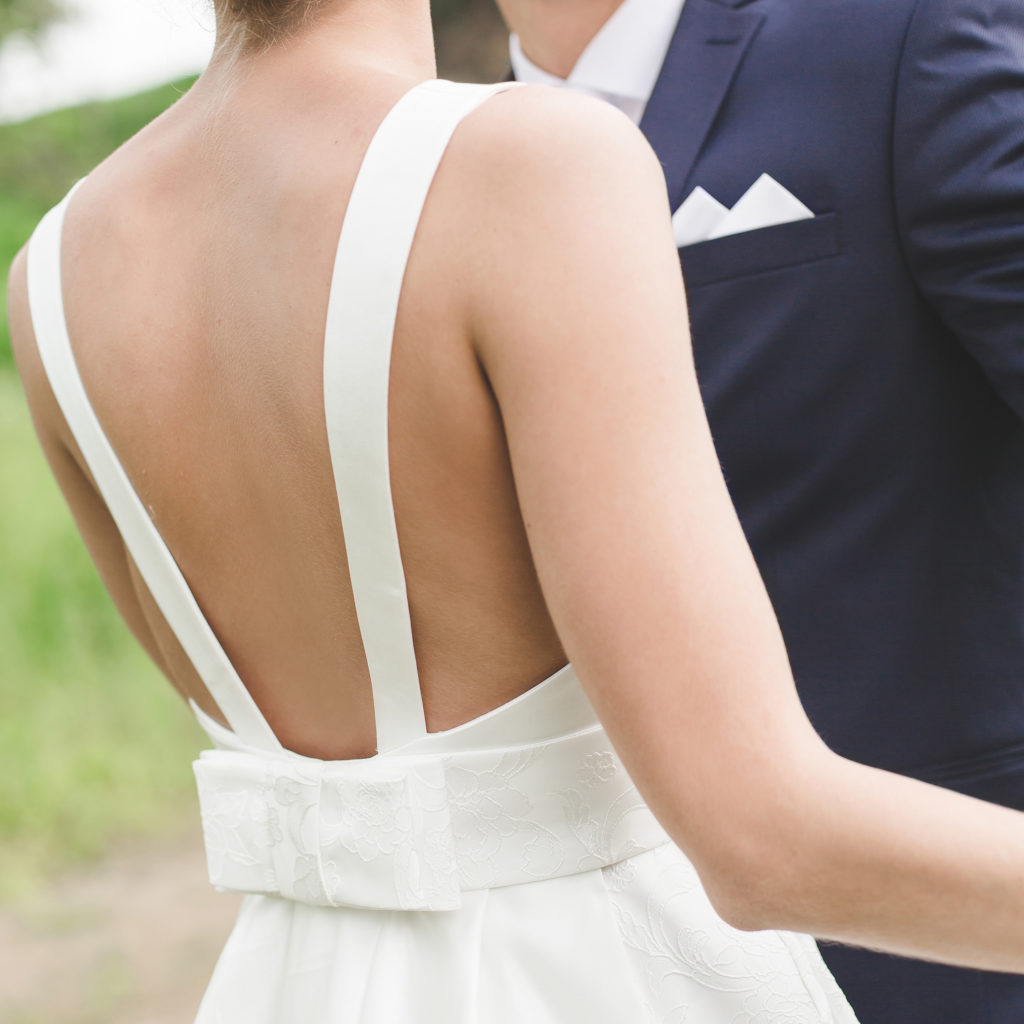 If you've been spying a low cut or backless dress for your big day, the skin on your body matters just as much your complexion. While our bodies don't often get a bevy of serums, essences and more, consider giving the skin south of your chin a little more TLC.  Especially in warmer weather and more skin baring clothing, "your back and decolletage deserve as much concern and caution as your complexion," says Boston dermatologist Emmy Graber. To ensure that your skin is spotless, make sure to use these tips leading up to the big day.
For active blemishes
Make sure to wash your body as the final step of your shower routine to thoroughly remove any potentially pore clogging ingredients left behind from your shampoo or conditioner. Suds up with a wash that contains benzoyl peroxide which helps to kill the bacteria that causes breakouts. While this blemish buster often gets a bad rep for being drying, it might be that you've used too high of a concentration in the past. "There's a variety of strengths, more is not better here, " says Graber. She suggests looking for a formula that contains between 2-4% benzoyl peroxide. FYI, your facial cleanser (Graber like Neutrogena Pore Cleanser, $6; amazon.com) is fine to use on your body. Please take note that you can not scrub away zits with harsh exfoliators, instead, it can further aggravate and diminish the skin barrier. If your breakouts consist of cyst like blemishes, you may want to consider other factors like hormones and diet. If you like to workout, make sure to change out of any tight fitting damp clothes ASAP. Snug clothing can trap oil and dirt. On the go? Try using body wipes on breakout prone areas (Cremorlab T.E.N. Cleansing Veil, $24; peachandlily.com). If you like to refuel with a protein shake, take a look at the ingredients list. "Whey protein may cause flareups, especially on the back," says Graber. Instead, look for a plant based version like pea. Swap out your skim milk while you're at it, studies have shown that skim milk can trigger breakouts for some.  Try switching to a full fat or nut based milk for a month to see if that makes any difference, says Graber.
For brightening acne marks
"Fading marks can be really tough, it takes time so be patient, " says Graber.   For very dark hyperpigmentation, consider a chemical peel at your dermatologists office. "People often think of chemical peels for the face but they can be done on the back and can create quicker results," says Graber. While peels can vary in ingredients, the best ones have multiple exfoliators to help shed the skin, acids can help lighten pigment and other ingredients which help inhibit melanin production. She suggests booking 2-3 sessions spaced a month apart.  "There can be a bit of peeling involved so be careful to consider weather and clothing," says Graber.  Avoid peels before any sun exposure. For a less intensive approach, look for topical products containing alpha hydroxy acids or azelaic acid which can exfoliate skin to help diminish marks.  If you can lay on your stomach for twenty minutes (we suggest during a Netflix binge), apply a sheet mask with Vitamin C (Try Ariul 7 Days Lemon Mask, $3; peachandlily.com) for a quick brightening boost. Most importantly, don't forget sunblock application every single day. "Wearing SPF will help prevent marks from getting any darker," says Graber.