Mom Life: A Salon Owner on the Gadget She Can't Live Without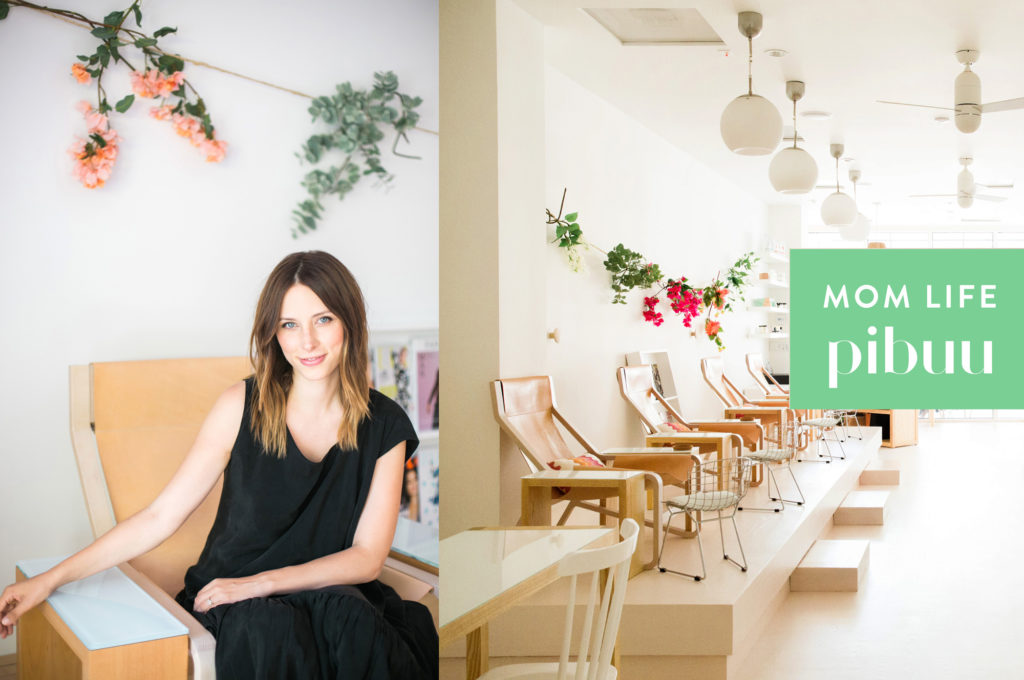 If you're searching for nail inspo on Instagram, chances are that you've landed on the page of Olive & June nail salon. #Oliveyourmani is the popular hashtag that both manicurists and customers use to showcase versatile designs- everything from fun pineapples to crisp minimalist graphics. The boho chic oasis was founded by 36 year old Sarah Gibson Tuttle, who spent over a decade working on Wall Street before making her move to the West Coast.  Olive & June, named after her grandmother and great grandmother, opened it's doors in Beverly Hills in 2013. Since, Tuttle has since had more additions: two locations in Pasadena and Santa Monica along with daughter, Noah. Ahead, this busy CEO and mama reveals her go to tool and her happiest time of day.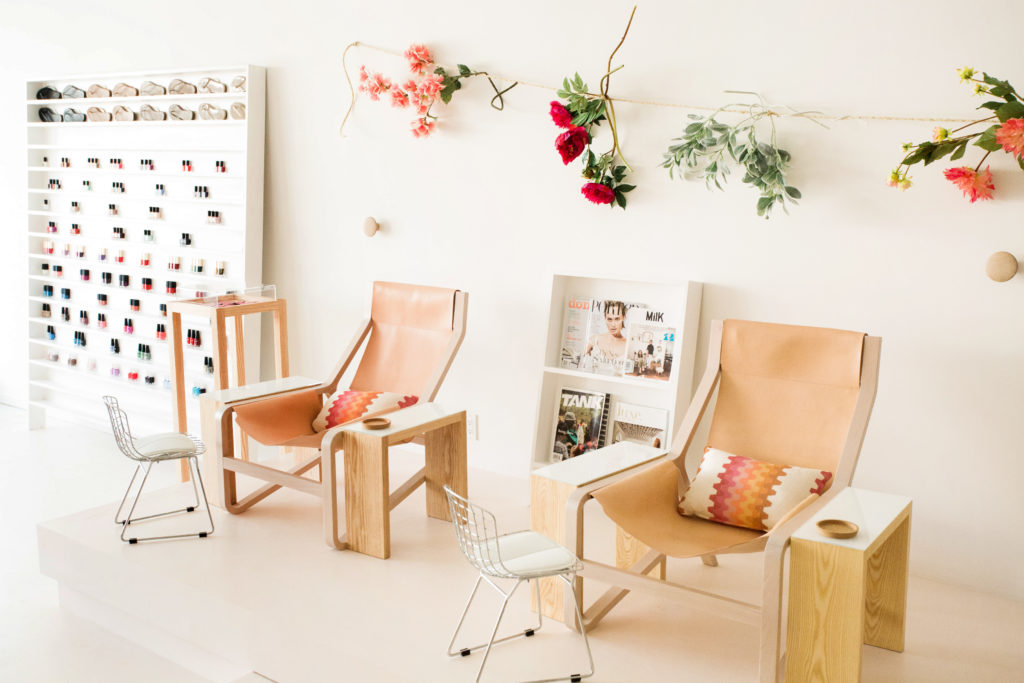 Tell us about your current skincare routine.
Currently I follow most, if not all, of what my facialist, Shani Darden, prescribes for me. SPF, serums by iS Clinical and her Resurface retinol. Since moving to the West Coast, I wear way less makeup. Foundation and I totally broke up, which makes my skin feel so free.
What's your skincare and beauty philosophy?
Stick to what works, less is more.
Did your routine change during pregnancy?
Yes, I stopped using retinol and used more masks- I shopped on Peach & Lily a LOT! What I love about Korean Beauty is that it's all about dedication to results. It takes time for products to work, but they really do. My skin broke out a fair amount when pregnant. My hormones were going haywire.  After pregnancy, I went back to retinol and I started doing the Light Stim bed as well. It's so good for my body, muscles and skin.
What products do you use on your body?
I love Tata Harper's oil ($95; amazon.com) I used it daily during my pregnancy. Right now, I'm searching for a slightly lighter oil that I can wear daily.
Are there any beauty rituals you like to do?
I am currently loving the Light Stim hand held ($250, amazon.com), and am trying to figure out the timing to dry brush daily. I have heard such amazing things about the results and need to get on it.
What do you love about your skin?
My skin is pretty clear in my 30's. I'm praying that it stays this way .
As a busy salon owner, what's the one thing you always make time for?
I almost always put Noah to bed. Even if I come home for thirty minutes before a nighttime event, I try to be the one that always is there for bedtime. I call it Baby Happy Hour because it's my happiest hour of the day.
When designing the salon space, what was important to you to have?
I wanted it to feel really stylish and also very relaxing. I felt like it should be super comfy and really beautiful too.
What are your beauty indulgences?
I always get my weekly manicure or polish change at O&J (of course!) and my monthly facial with Shani. Those are my two must haves!
Do you have a game changing product/tool that you can't live without?  
Cuticle oil.  (Ed note- try Uka nail oil, $36; peachandlily.com)
What advice do you have for other mothers?  
No advice, rather: You're doing it just right! We don't hear that enough and it's true. We're all doing it the way we should be. No judgement allowed.
Is there advice anyone else gave you that really resonated with you?
Someone told me to give Noah as much focused time as I can. The focused time (no cell phones, no distractions) can be 15 minutes but it's way more meaningful to her than 3 hours of unfocused time.
What is your favorite thing about motherhood?
Seeing Noah learn something new, it continually surprises me.
How has having a daughter changed your ideals or thoughts about beauty?
She checks out my nails and then checks out her nails! It's the cutest thing. She has definite opinions about the colors I choose every week and has made me love lavender because she loves it.