#Skinterview: Jin Soon Choi, Celebrity Manicurist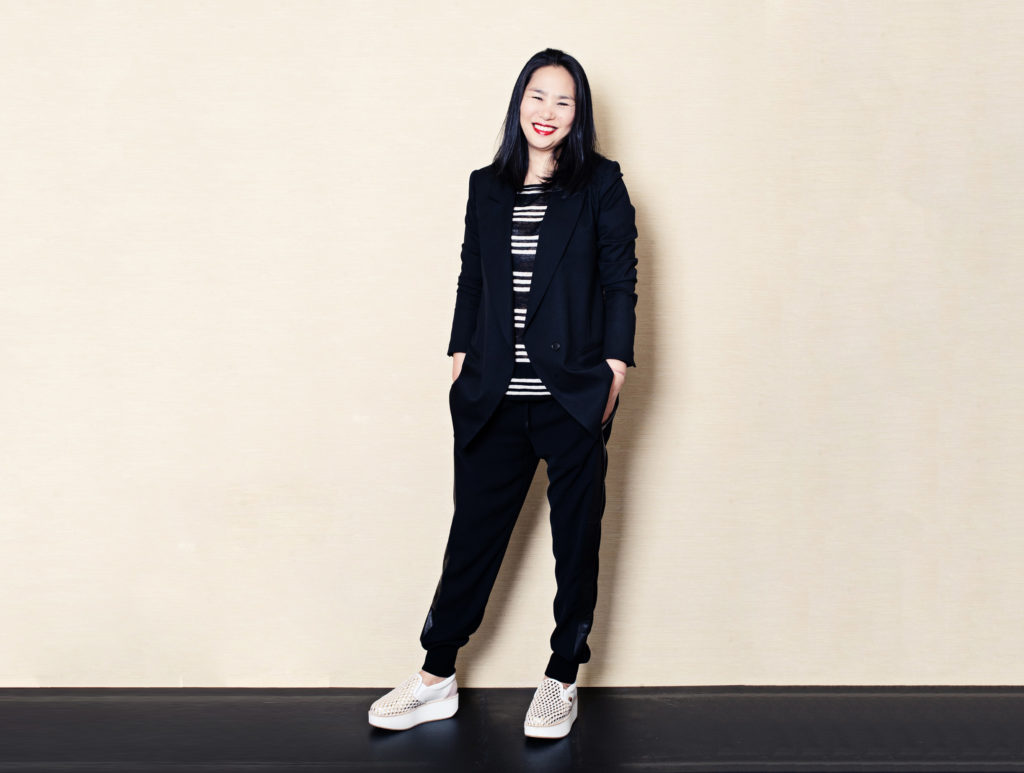 Welcome back to #Skinterviews! In this series we'll talk to women who inspire us about skin care—and so much else. This series is about more than just our favorite products, but rather about some of our favorite people. We hope you find their stories as inspiring as we do!
With a client list that reads like a who's who in Hollywood and high profile fashion shows under her belt (er, nail file),  Jin Soon Choi is one of the country's most in demand manicurists. The Korean born nail afficionado owns four salons in New York City and created her own high performing polish line. Here, Choi dishes on how she got started and what's next in nails.
On Breaking into the Business
I moved to the US in 1990.  The biggest hurdle was finding my own connections in the business.  At one point early on in my career, I sent letters of introduction to 50 editors who were listed in various beauty and fashion magazines offering to provide at-home manicures and pedicures.  Only one responded and she introduced me to an agency which enabled me to work on photo shoots for magazines and brands Revlon, Cover Girl, Maybelline, L'Oreal, Sally Hansen and many more.
On Starting Her Own Line
It was always a goal of mine to have my own line. I spoke to many clients at my salons (I currently own 4 but when I launched my nail lacquer line I had 3) and found that a long lasting application was at the top of their list. I adopted gel technology without using any actual gel ingredients to fulfill the request.  Clients were also interested in nail polish with rich, lustrous colors, high shine, smooth application, eco-friendly and lacking harsh chemicals.I keep my mind (and eyes) open for inspiration at all times!  I am a huge devotee of modern art, but I also derive ideas from graphic design, nature, textiles, different periods of fashion eras and even street art.
On Working with Celebrities
I just act like myself and celebrities seem to appreciate that.   One recent special moment was when I received a sweet thank you card from Allison Williams (from the HBO comedy/drama series "Girls") after working with her on a photo shoot.  It was so unexpected and I was very touched by her sweetness.
On Skincare & KBeauty
I think there is a very different approach to skincare in Korea. For Koreans, taking care of your skin is a part of the culture, there was such a big emphasis on it when I was growing up in Korea. Amore Pacific and other skincare companies, they had these women who would go door to door showing off products and how to use them, like Avon ladies. So, I grew up with that and learned about skincare very early on- I started using eye cream in high school! It's still the one product I can't live without. It's an essential part of my routine and it's  a big deal for me. Ageing shows up first around the eyes. I apply eye cream around my eyes, mouth and in between my eyebrows- areas where we tend to wrinkle easier. I make sure to really pat product in, it makes my skin glow. There's a Korean idea that it can make the skin look more toned and taught. I don't know if I really believe it but I do it.
People talk about the Kbeauty routine and it might seem like a lot of steps, but it's not really. I do 4-5 steps and it doesn't take me much time. I know cleansing is a big deal in Korea- double cleansing and all, but I don't double cleanse because I don't wear makeup. For me, I wash my face once and I apply toner, serum and my moisturizers. I keep it pretty basic but I stick to it, I don't skip it ever. Even when I travel, I bring everything. I just decant them into small jars and make my own travel kit so I'm not carrying anything heavy.  I have a minimalist approach but I'm more into skincare than color makeup. One thing I do is lipstick if I have to. When you wear a red a lipstick, you look more lively. But color makeup is not my thing.
I am so proud that Kbeauty is big in the US – there are no other non-US countries that are as singularly popular with their own category.   I love the Dr. Jart Face Mask, Saturday Skin Freeze Frame Beauty Essence ($47; peachandlilycom), and Amore Pacific eye cream. Some ingredients might seem a little gimmicky but I think there's a lot of innovative technology, as well.  For many products, I feel like the packaging is top notch and the formulas are so impressive, a lot of the things I've tried truly work. I think that's why KBeauty is getting so big here.  Koreans are really big on masks, I love to do a sheet mask. My favorites are the jelly versions (Ed note: try Let Me Skin Water-Jelly Modeling Mask, $20; peachandlily.com) because it's super hydrating. I love to use more moisturizing products as I get older. My friend is a stylist and she wears sheets masks on flights, an hour before she lands. I'm a bit shy to do it but I should- it's really hydrating and good for you.
On Nails
I think the biggest mistake people make is failing to moisturize nails. (Ed note- we are all about hydration, try Calendula Juicy Cream). This Spring, I think the big nail trend will be sheer nail colors that give your nails a healthy glow. As well, opt for subtly tinted white shades such as JINsoon Kookie White ($18; amazon.com) and JINsoon Grace ($18; amazon.com).  I also recently launched a really petty pink named JINsoon Love ($18; amazon.com) that I predict will do well.
I think the coffin nail will continue to be popular but you have to be careful about the colors you wear with a really bold nail shape- it can look a bit too much.  If you're going to do a really bold nail color, I'd wear it on a shorter nail while longer nail and funky shapes are better with nude tones.To find the right nude, look for a sheer pink if you have pale skin. For medium skin, look for a deeper tan color with some mauve undertones. It keeps the color from looking too mannequin like. Neutrals with pink or purple undertones give a healthy sheen.  And if you have deep skin, you can pretty much handle all sorts of colors- it's like a neutral canvas.