Do's and Don'ts for Normal Skin: Part 1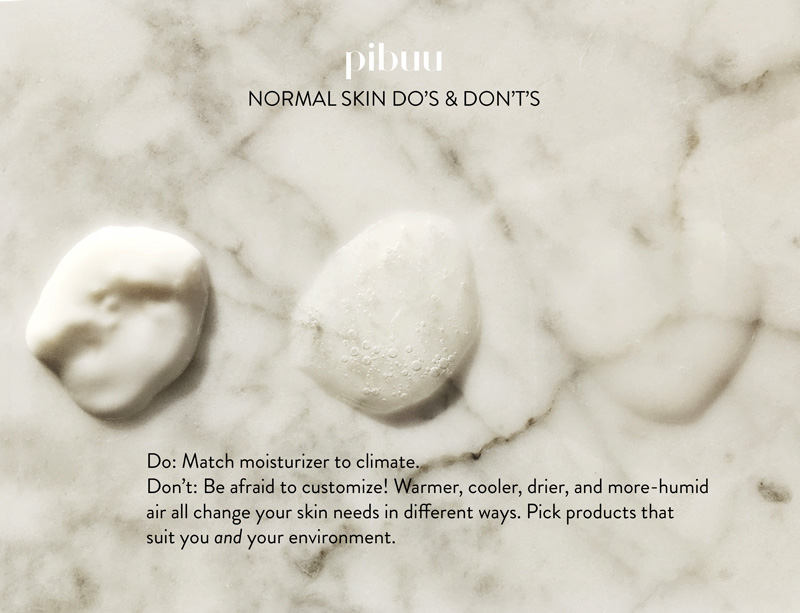 If you've lucked out and have Normal Skin, we're going to assume you want to keep it that way. Since normal skin is already balanced, it is important to maintain this balance by following these simple do's and don'ts:
---
Do's:
Cleanse:
This may seem like a no brainer, but even on late nights where the last thing you want to do is take off your makeup before bed, you must! Failing to properly cleanse the skin with both an oil and a water based cleanser will cause many of the skin concerns you've previously eluded, such as breakouts, dryness, and fine lines.
Use a Serum with Antioxidants:
Since normal skin does not have too many concerns, it's best to focus on prevention. Antioxidants fortify the skin from free radical damage, which is caused by factors like the sun, pollution, and poor diet. Free radical damage causes collagen and elastin to break down, leading to dry, crepey, wrinkled skin that has lost firmness. Look out for a serum that contains ingredients like green tea, cocoa extract, blueberry extract, and vitamin E for your daily dose of antioxidants.
Moisturize:
While your skin may not feel dry, it's still necessary to hydrate. Moisturizer helps to maintain a healthy skin balance. When the skin is not hydrated enough, the oil glands will begin producing an excess of oil to compensate, often leading to blemishes. Avoid this fate by using a creamy formulation that is not too heavy but does not skimp on moisture. Go for nourishing formulations that contain ingredients like avocado oil, hyaluronic acid, argan oil, and jojoba oil.
Wear SPF:
Although the damage the sun does may not be seen on your normal skin for many years, it is still crucial to protect your skin in the meantime. When harmful UVA rays penetrate unprotected skin, they cause sun spots deep within the epidermis which will not make an appearance on the surface for a long time, depending on your age. If we all had a glance at what our future skin would look like if we applied SPF, we would surely be more diligent. Just take our word for it–SPF helps to prevent sun damage, fine lines, and elasticity loss.
Don'ts:
Use Harsh Products:
Balance is once again the most important factor in maintaining healthy skin. While over moisturizing causes its own host of issues, stripping the skin of moisture will result in breakouts and oiliness on your previously perfect, balanced skin. Harsh products can also cause stinging, burning, redness, and dryness. Steer clear of products that contain drying alcohols or harsh fragrance to avoid this reaction.
Over-Hydrate:
As we just mentioned, over hydrating is not good for normal skin, as it will clog the pores and cause blackheads and breakouts. Thick creams can create an occlusive barrier that prevents skin from breathing. This results in painful breakouts and stubborn blackheads. Save the ultra-hydrating moisturizers for those with dry skin to maintain your beautiful skin.
Lack Consistency:
If you prefer a simple regimen, that's fine, just make sure you stick to it. Skipping a day or two of your full regimen or one or more steps can wreak havoc on your skin. While you may think just one day won't make a difference, it will upset the balance you have achieved with your skin and cause dullness and breakouts.
Neglect to Exfoliate:
Even though your skin may already be glowing, you want to keep it that way. Exfoliating entails removing dead skin cells from the surface of the skin. When we do not exfoliate, the skin looks dull and tired. It flakes, blackheads form, and pores get congested. Exfoliating two to three times a week will increase circulation, soften, brighten, prevent breakouts, and maintain the skin's youthful feel and glow.
---
While you may not have the same sense of urgency when caring for your normal skin than oily or dry skin types have, you should still be diligent in maintaining the beautiful skin you already have. Following these simple do's and don'ts will help you accomplish this.