The Do's and Don'ts For Sensitive Skin: Part 1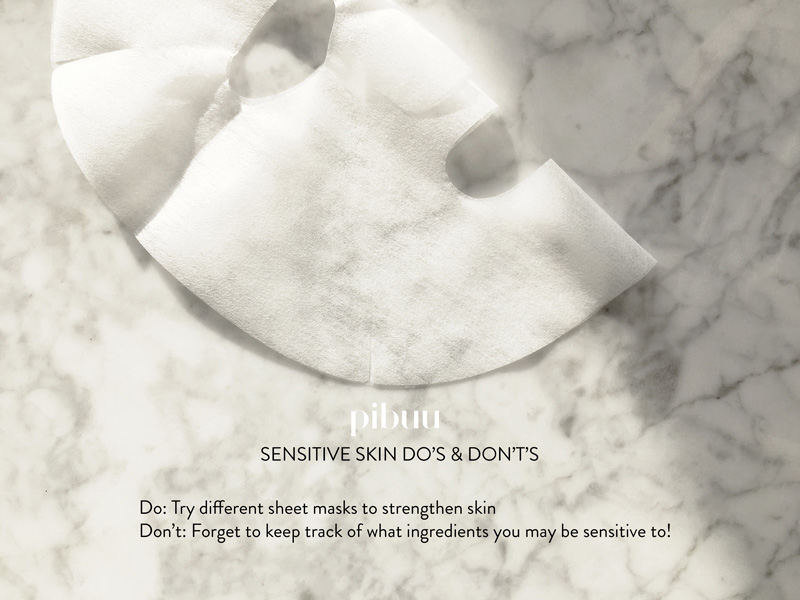 Sensitive skin requires extra care, so it's important to know what to do and what not to do. Avoiding skin care altogether may be tempting, but it's not an option. Make sure you avoid harsh chemicals, fragrance, and ethanol and denatured alcohol (not fatty alcohols, which are safe for skin) to avoid an adverse reaction. Plus, follow these simple do's and don'ts for calm, healthy skin:
---
Do's:
Strengthen the Barrier:
Sensitive skin has a compromised barrier function. Our barrier function protects the skin from moisture loss and harmful bacteria, so making sure it is healthy and functioning properly is crucial. Ingredients like squalene and ceramides will reinforce the natural barrier function to thicken the skin, reduce inflammation, and prevent breakouts.
Sheet Mask:
Using a gentle sheet mask a few times a week is very beneficial for sensitive skin. Sheet masks contain hydrating essences that plump, firm, and soothe skin. Be sure to look out for sheet masks that contain calming ingredients like honey, lavender, calendula, cucumber, and licorice. A great tip for days when your skin is desperate for some TLC: store your sheet masks in the fridge for a cooling effect that will soothe skin even more.
Use a Gommage Peel:
If you have sensitive skin, you are probably afraid of exfoliation. While this is understandable, as a harsh exfoliator can damage skin, it is still important to exfoliate to avoid dullness, clogged pores, and signs of aging. Gommage peels are a great option for sensitive skin. They often have a gel-like consistency that you apply all over the skin, wait about a minute, then gently rub off to reveal flakes of dead skin.
Don'ts:
Ignore Ingredients Lists:
Being aware of what ingredients can trigger a flare up is very important for sensitive skin. Using a product without doing the proper research can cause a negative reaction that takes days to reverse. Look out for potential irritants and avoid products with ingredients that caused inflammation in the past.
Skip SPF:
SPF is essential for all skin types, but is especially so for sensitive skin. Sun exposure can cause redness, burning, and premature aging. If you have rosacea, the potential for a reaction increases without SPF. When selecting an SPF, go for sun blocking ingredients like titanium dioxide or zinc oxide, which are less likely to irritate your skin.
Over Cleanse:
Cleansing should only take place twice a day with a gentle foaming cleanser or cleansing cream. While you may be tempted to wash your face after the gym, it will strip your skin and increase the probability of irritation. If your skin feels grimy throughout the day, keep a gentle, hydrating facial mist on hand for a refresh.
---
While different factors can trigger sensitive skin, this list is a general guide for all those who experience redness, irritation, and have highly reactive skin. Following these tips will avoid breakouts, dryness, burning, and redness that is all too familiar for those with sensitive skin.