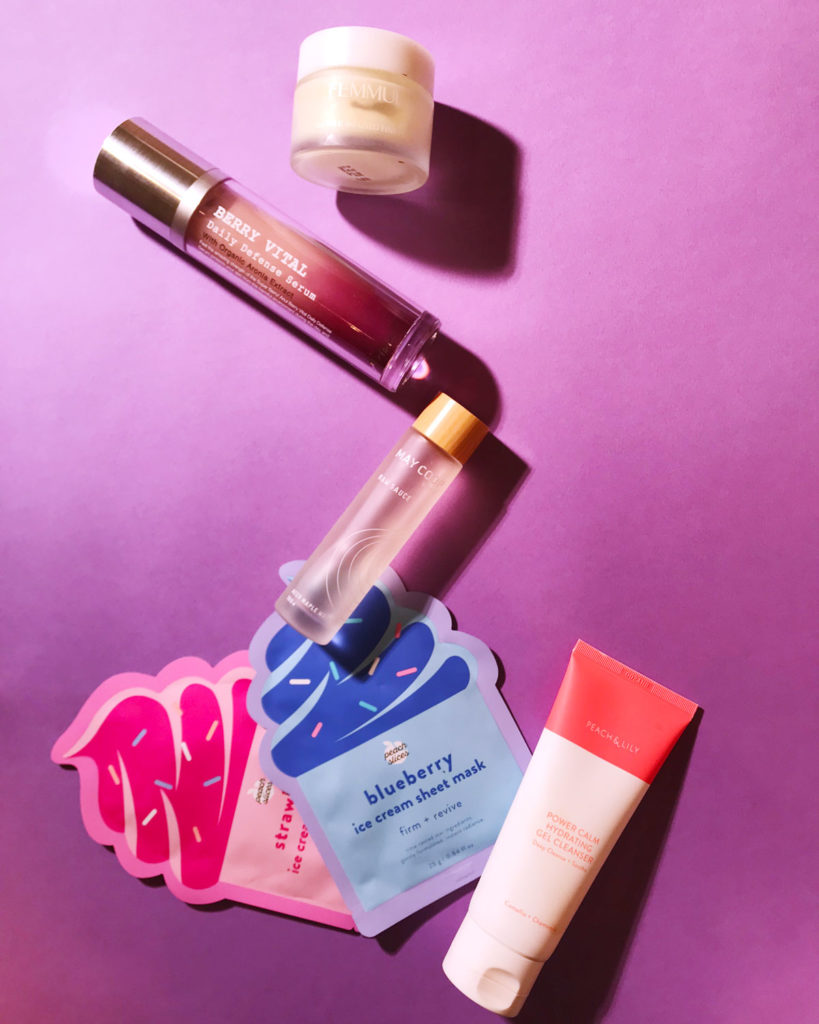 It's coming; we can feel it in the air.
Spring.
Daylight savings has brought us more daylight, so we're not necessarily leaving work in darkness, giving us extra light to enjoy our waking hours. The cold is on its way out, taking its accompanying dryness with it, and there's starting to be more moisture in the air. Flower buds are showing on trees and bushes.
The official start to spring is still a week away, but, because the weather has been sunny and almost spring-y here in New York, we've of course been thinking about transitioning our skincare from winter to spring. We don't think we're quite at the point where we can start swapping out products because there are still cold spells hitting us, but we thought we'd at least start thinking spring.
And how better to do that than by thinking of products that make us think of spring when we're using them?
Even in warmer, not-as-dry weather, cleansing should still be gentle.
Cleansing should always be gentle no matter the weather. The Peach & Lily Power Calm Hydrating Gel Cleanser has chamomile and camellia extracts that soothe and calm skin while cleansing away impurities and dirt and even light makeup. With the light, natural, slightly herbal scent of chamomile and the brighter notes of camellia, the cleanser helps calm your mood as you cleanse your face, hopefully leaving you feeling as good as your skin feels.
Exfoliate! Dead skin still needs sloughing away in warmer months.
Clear away that dull, winter skin! To embrace spring fully, try out Femmue's Flower Infused Fine Peel. Exfoliation is provided by finely ground camellia flowers, and the wash-off mask is filled with other hydrating, soothing ingredients like aloe extract, hyaluronic acid, and centella asiatica extract to leave your skin feeling soft and rejuvenated. The natural, bright scent of flowers is also sure to brighten your mood as you gently massage this mask over your skin and slough away roughness.
Continue to balance and hydrate skin.
Just because there is more moisture in the air doesn't mean you should stop focusing on hydrating your skin! May Coop's Raw Sauce is a particularly great toner/essence to balance your skin after cleansing and drench it with hydration. Slightly thicker in texture, the Raw Sauce is a waterless toner/essence, made up of 93% acer mono syrup, which also brings its pleasantly sweet but not overbearing scent to the formula.
The Raw Sauce is particularly appropriate for spring because the acer mono syrup used in this Raw Sauce is harvested in May!
Keep protecting your skin from environmental stressors.
The Ariul Berry Vital Daily Defense Serum is 20% chokeberry extract, and chokeberries are rich in antioxidants and vitamins. Boosted with hydrating and nourishing ingredients like glycerin, centella asiatica extract, allantoin, and various other berry extracts, this serum helps fight free radical damage and provides a defense against environmental stressors. It has a bright berry scent and a creamy gel texture that just melts into skin, leaving a smooth, bouncy finish.
Sheet mask!
You're not surprised to hear us say this, of course. These Ice Cream Sheet Masks from Peach Slices feature berry extracts and milk protein extracts to help soften and nourish skin, while providing skin with antioxidants and beneficial ingredients like licorice root extract, ginger root extract, and green tea leaf extract to help nourish, brighten, and soothe skin. The bright berry scents are naturally provided by the ingredients and are sure to help perk you up as your skin is replenished and hydrated.