Who Says You Need a Sink to Do Your Skincare Routine?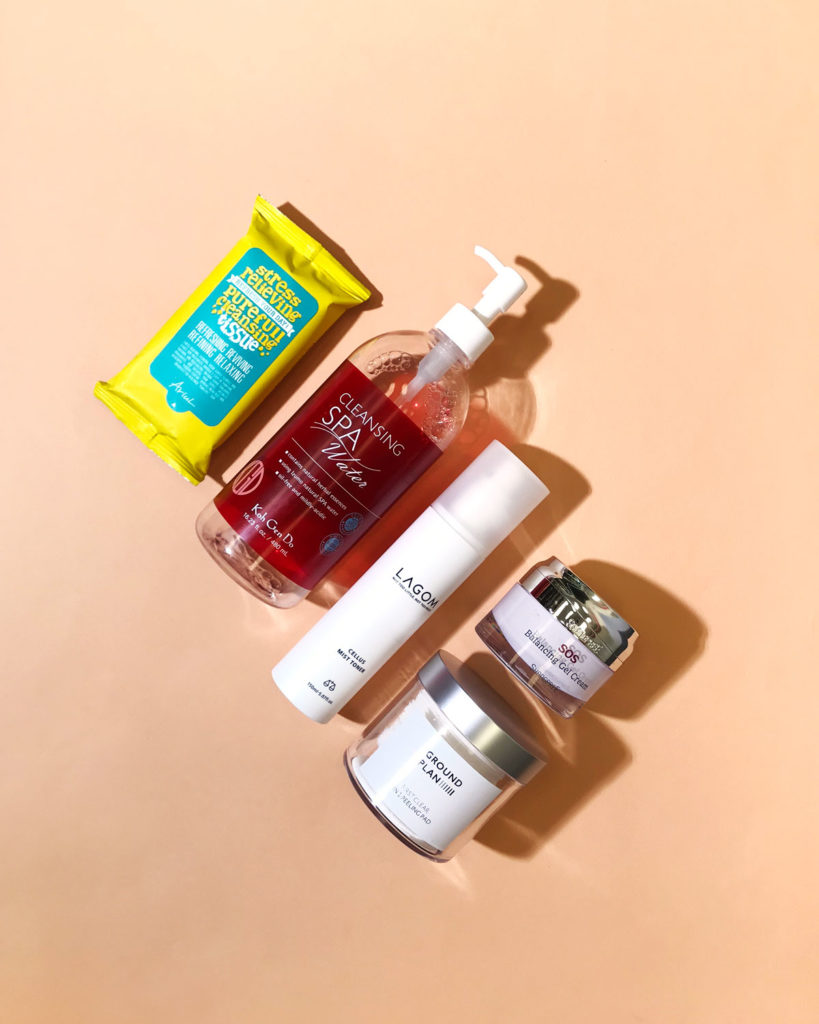 It's cold, and it's time to go to bed, but you don't want to leave the warmth of your sofa or bed or wherever you've curled up (probably near the radiator). You still need to cleanse your face, though, and go through some kind of routine … but your bathroom is too cold or it feels too far away, and you just want to clean your skin, moisturize, and go to sleep with as minimal movement required as possible.
… who says you need a sink to do your routine, right?
On lazy cold nights like these, when we've come home from work in freezing rain or snow or both, we like to keep things cozy, which means we like to get creative.
We start with a good cleansing wipe that will remove our makeup, sunscreen, and environmental grime and leave our skin feeling fresh and clean, no residue or stickiness left behind. Ariul's Stress Relieving Purefull Cleansing Tissues are particularly nice, generously-sized with a pleasant citrusy scent (thanks to citrus oils) that feels and smells pleasant as we rub it very gently over our skin, even around our eyes to remove mascara, brow gels, and other eye makeup. Because these Cleansing Tissues contain oil, they're able to get at those oil-based impurities!
(Of course, though, a cleansing tissue can't get as deep into our pores as an actual oil-based cleanser can … but we can go back to our sinks and "proper" cleansers tomorrow.)
After we've removed our makeup with a cleansing tissue, we take one or two cotton pads and pump a cleansing or micellar water (like Koh Gen Do's Cleansing Water) once or twice, saturating the cotton pads and swiping them (gently) over our faces. The water-soaked cotton pads will help pick up water-based grime like sweat and dirt, as well as anything left over from the cleansing tissue — and it's like we're getting our double cleanse in, even sans sink!
If our skin is feeling a little dull and in need of some gentle exfoliation, we like these Ground Plan First Clear 2 in 1 Peeling Pads, which are microfiber on one side, organic cotton on the other. They've been soaked in a gentle formula that contains AHAs, BHAs, and PHAs, helping slough away dead skin cells through both physical and chemical exfoliation, so skin looks brighter and feels smoother. The best part? The pads are soaked in just the right amount of formula, so you don't have to deal with excess formula dripping all over the place — or run to the sink to rinse your hands.
We then keep our toner/essence step super simple by using a face mist; we really like Lagom's Cellus Mist Toner. Because it's a toner, it helps balance the pH level in our skin, which helps keep our skin barrier intact and protected, but, because it's a mist, it's super hydrating — as well as soothing thanks to camellia extract and nourishing thanks to green tea extract and rose oil. The Mist Toner sprays evenly onto our face in a fine, uniform layer, and we make sure to pat the excess in, so all the hydration gets into our skin instead of evaporating away.
Finally, we seal everything in with a moisturizer, and, these days, we've been liking the SOS Balancing Gel Cream from Shangpree. Packed with botanicals and plant extracts, this gel moisturizer cream is hydrating and nourishing, helping protect and rejuvenate our natural skin barrier, so our skin is better able to stay hydrated and protected against the harsh winter climate. We like to apply this as part of our nighttime routine, so our skin is able to soak in all the nutrients while we get our beauty sleep.
And there you have it! A nighttime skincare routine we like to do from the comfort of our sofas or our beds or whenever we feel most cozy and comfortable. Of course, this shouldn't be our routine every night, but we know you get it — you've been there, too. And, of course, you can substitute out any of the products mentioned for your favorite products — the important part is that you still remove your makeup, cleanse skin, and apply proper hydration, even on nights you just want to be warm and cozy … and not go into that cold bathroom.