From Japanese Onsens to Your Bathroom, The Koh Gen Do Cleansing Water.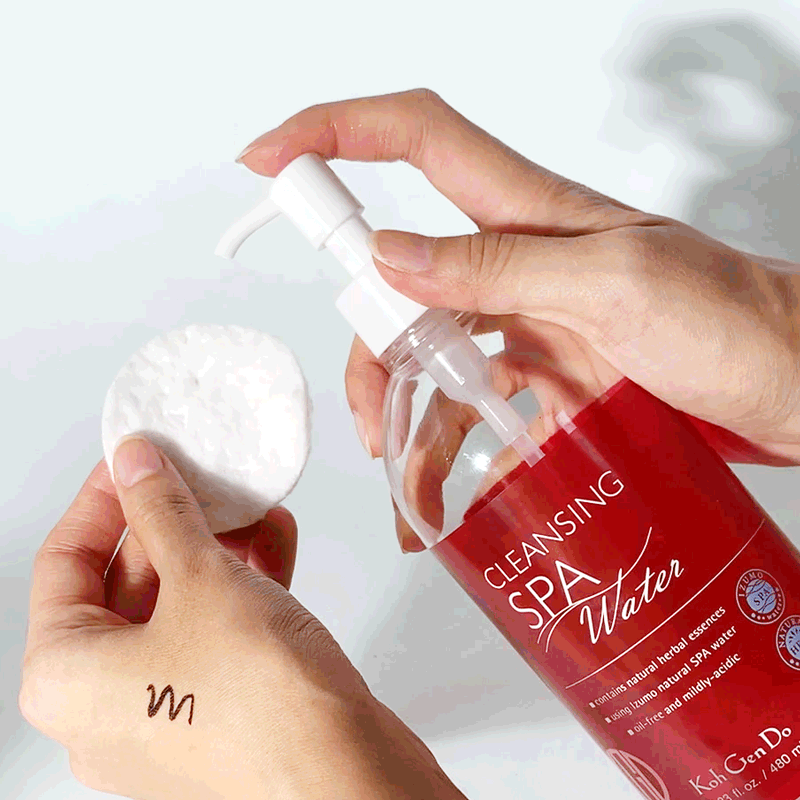 There are some skincare products out there that just have that wow factor. Highly effective and thoughtfully formulated, these superstars break through categories, amass loyal fans, and eventually become the stuff of beauty legends. One such hero is Koh Gen Do's Cleansing Water.
Introduced a decade ago, long before micellar water even started trending, this beauty water was a game-changer, with the unique ability to make heavy makeup and even permanent ink disappear in an instant. This Cleansing Water quickly became a favorite of celebrities, makeup artists, and consumers all around the world, and it, along with its celebrated sister products, has since gone on to sell millions of units.
Part of the reason for its long standing reign, to be sure, is Koh Gen Do's decision to update the formula constantly, improving it ever so slightly with each iteration. Pairing the newest technological R&D innovations with celebrated Asian ingredients like white birch sap and mineral-rich thermal water sourced from Japan, this beauty water may look and feel like water, but it behaves like anything but.
We sat down with the brand's chief brand officer, Diane Nakauchi, to get the inside scoop on what makes this product so special. We've condensed and edited the conversation for your reading pleasure.
Can you tell us a little bit about the creation of the Cleansing Water? What was the inspiration? How did it come to be?
During an excursion to Paris during fashion week, our Brand Director, Megumi Setoguchi, was inspired by the quick changes of both outfits and makeup on the runway. Megumi worked for 4 years innovating the signature blend of the Cleansing Water to be perfect for everyday quick makeup removal – gentle on and off the runway as well TV and film stages around the world.
When was the Cleansing Water first introduced to the market? Was it popular right away, or did it take some time for customers to jump on it?
2018 marks the 10th anniversary of our launch in Japan with our signature blend of thermal, mineral, and botanical water — as well as Koh Gen Do's debut in the US market. In 2008, Koh Gen Do wowed audiences at IMATS with demos of our Cleansing Water as it easily removed permanent pen marks on skin, as gently as if we were  using pure water. People in the TV, print, and film industries began using the product to remove both everyday and heavy, resistant, stage makeup.
The Sons of Anarchy series was one of our first big media customers, and they used our Cleansing Water to remove the actors' tattoo effects on set.
Our Cleansing Water did not stay a secret for very long, and consumers gravitated toward our unique and effective formula because the gentle, nourishing Cleansing Water leaves the skin feeling clean and fresh without any tacky or oily residue — no rinsing is even needed after use.
Is this the brand's best-selling product?
Our Cleansing Water, as well as our travel-friendly Cleansing Water Cloths, is one of our best-selling categories, along with our Aqua and Moisture Foundation, which also has a very devoted following. Globally, millions of Koh Gen Do Cleansing Water products have been sold since its launch.
Micellar water is now produced and sold by many brands, but what makes yours different? Were there many others when this particular product launched?
Koh Gen Do emerged a decade ago and continued to evolve to the coveted formula we have today. Koh Gen Do was one of the first brands to offer a micellar water with a unique formula that blends botanical, thermal, and mineral waters with six essential herbs.
Our Cleansing Water is different in that we use the same amount of skincare ingredients in the Cleansing Water as we do in all of our skincare products. Our technology allows the pH balance to remain consistent while the Cleansing Water supports your skin before, during, and after a beauty regime. To add to that, our Cleansing Water cloths are  made of natural cotton, certified organic in Japan. They have a soft yet sturdy, feel and are amply sized to cleanse the entire face with just a single cloth.
Customers often marvel at how water-like the formula is, yet so deeply cleansing. Can you share a bit about how micellar water removes makeup and impurities from the pores?
Micellar waters contain tiny spheres (micelles) of cleansing oil molecules suspended in a water solution. They are soft enough for the oils to disperse and attract and remove impurities like dirt, oil, and makeup from skin.
Koh Gen Do's Cleansing Water relies on Japanese mineral-rich thermal waters known for their soothing, restorative properties. We blend white birch sap that is harvested for only 3 weeks every spring containing sugars (namely xylitol), proteins, amino acids, and enzymes; that white birch sap combined with botanicals effectively dissolve even stubborn waterproof makeup. Then, to go truly above and beyond, Koh Gen Do added 6 essential herbs to brighten and balance the skin.
Can you tell us a little about the Koh Gen Do brand. What is its ethos?
The Koh Gen Do brand begins with our beliefs that nourishing skincare help bring out inner beauty and restore troubled skin. Our ethos remains the same from the beginning; we practice mindfulness of earth and nature, as well as environmental impacts on skin. We never add active ingredients to try to produce aggressive results for skin as we target the health of the skin first.
Skin requires daily care, as the rest of our body does, and we support the inherent abilities of staying healthy and tapping into inner beauty. Healthy skin is part of this system and can recover quickly from stressors such as sudden dry weather, emotional upheavals that affect your system, even on nights you can barely wash your face.
Our evolution continues with technology-based Macro Vintage products designed to repair, plump, and ensure a glowing complexion at any age.
We hear (and talk) a lot about not damaging the skin barrier when cleansing. How does that typically happen, and how can it be avoided?
The skin barrier, in scientific terms, refers to the stratum corneum of the skin. which is the outermost layer (often called the horny layer). This is skin's "brick and mortar" that keeps moisture in while keeping harmful irritants out. The bricks are the surface dead skin cells while the mortar is the lipids that keep it together. With other products, damage to the barrier can occur in many ways: harsh products that strip lipids, rough handling or rubbing of the skin, exfoliating with granular products and harsh environments.
This beauty water is said to help balance skin's pH. Can you talk a bit about how it does that and how someone should know if they need to balance their pH?
The skin has a thin protective layer called the acid mantle with an optimal pH of 5.5. On the pH scale, 0 is most acidic, 7 is neutral, and 14 is most alkaline. Skin's pH is important to maintain as it protects the skin from external irritants, such as bacteria, allergens, and environmental pollution while keeping moisture in. Enzymes that break down collagen are triggered at higher pH levels, and higher pH levels can also leave the skin vulnerable to accelerated aging, dehydration, and sensitivity. Koh Gen Do's Cleansing Water products have pH levels of 5.3 to support and respect the acid mantle's ideal pH range.
Should this be used instead of a regular face cleanser/makeup remover?
Our Cleansing Water is always the first step we need to remove makeup first! Use the Cleansing Water to remove even the most stubborn or waterproof makeup, including the eye makeup. Then, embracing the Japanese double cleansing method, follow with a cream or lotion cleanser. Lastly, ensure a supremely clean skin by using a foaming cleanser.
Is this really safe even to remove eye makeup? Is this made for any specific skin types?
Yes! It is perfectly safe to use around the eye area. Sensitive skin types really love how soothing and balanced the Cleansing Water is. All skin types benefit!
Can you share about the ancient Asian inspiration that went into this product?
In Japan, we have the onsen, or hot spring, which we consider a superpower of the world. Japan has over 27,000 hot springs. Japanese thermal waters have been known to have an abundance of minerals ,along with skin-softening benefits. We use the deep thermal water from Izumo, Japan, as the base of our Cleansing Water.
Why do you include lactic acid? And xylitol? What do they do for skin?
Lactic acid is an AHA but is gentler. Uniquely used as a humectant and a gentle exfoliator in our Cleansing Spa Water, lactic acid helps keep cells hydrated while gently removing dead cells. Xylitol is naturally found in the white birch sap we use in our Cleansing Water. Xylitol is a sugar alcohol with humectant properties for skin.
Finally, can you give us any hint on future formulations/products that might be in the works? Any interesting trends or ingredients the brand is currently exploring?
Koh Gen Do continuously innovates in our R&D labs, taking advantage of all the newest technology to deliver effective yet soothing skincare that doesn't irritate skin. Skin is already inundated with outside stimuli, so restoring moisture and calming are one of the first benefits we want to achieve with our products so that skin can return to a healthy state. Koh Gen Do continues to expand our collections to support the needs of skin to thrive and enhance skin's  innate elasticity, hydration, and radiance.
–
Thank you, Diane, for taking the time to talk to us!