Toner Wash Method- The KBeauty Hack for Extra Moisture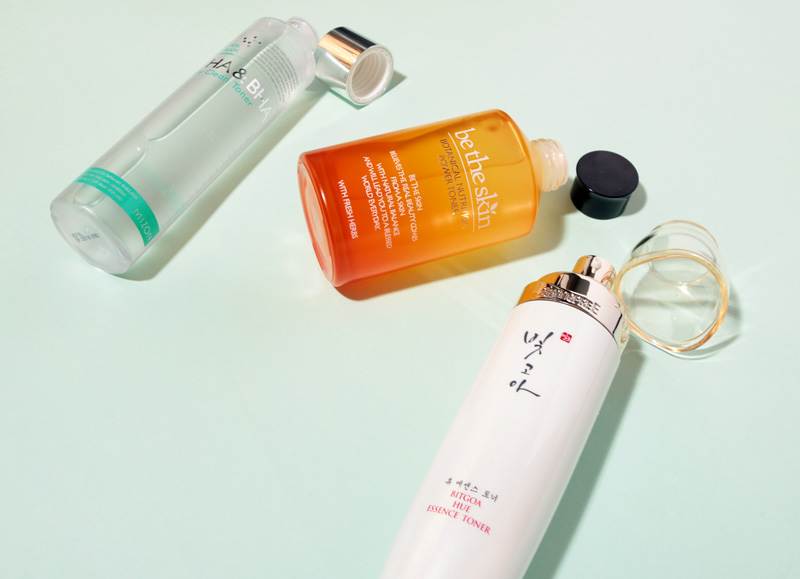 While American toners are known for being drying and harsh, toners in Korea are a vital step in balancing and hydrating skin. So much so that the 7-Skin Method went viral in Korea and overseas last year. ICYMI, a refresh: seven layers of toner are patted on one by one to boost moisture. The layering method is thought to better help skin absorb nutrients and hydration instead of just spreading a large dab on at all once. Think of it like a sponge slowly absorbing water till it's full, it more efficiently absorbs hydration than a brittle sponge trying to soak up a pool of water all at once. After trying the 7-Skin method, Korean beauty editors and bloggers reported bouncier, dewy skin. Now, "Toner Wash" is the latest way to  hydrate and prep skin.
How does it work?
First, cleanse your skin; we're partial to the double cleanse which involves using an oil based cleanser to remove makeup and grime followed by a water based cleanser to further dissolve any lingering residue and water-based impurities. Instead of waiting even a few seconds to apply toner post- cleanse, toner wash offers a splash of moisture by combining a hydrating toner with water into your final rinse of. To DIY your own toner wash, simply mix a couple of drops of toner into a palmful of water. Alternatively, you can pour several drops of toner into a small bowl of water. Then, use this concoction as the last step of your rinse and pat dry. Keep in mind, you are roughly creating a proportion of 9 parts water to 1 part toner.
See it in action here:

Like many skincare hacks that go viral (like gritting), Reddit users have been trying this new method. User pdxbeautiful wrote on the Asian Beauty subreddit that since implementing the Toner Wash Method with a calendula tincture, she noticed her breakouts healing and decreased redness. "I was pretty skeptical but this has made my skin incredible soft and smooth. The biggest result that I have seen so far is that it has helped a few stubborn breakouts to heal," she writes.
How to Find The Right Toner For Your Skin Type
Whether you opt for a tincture or a toner, finding the right formula is half the battle. Find your perfect match below. Even after your final rinse with water, apply a couple of drops of toner to balance skin.
Dry– Flakey skin types are often most fearful of toners. Look for hydrating ingredients like honey and hyaluronic acid. We love this viscous royal jelly infusion version from Be The Skin.
Oily – Look for a formula that unclogs pores. The Mizon AHA & BHA Daily Clean Toner contains salicylic acid which helps keep oil at bay and gently exfoliates large, rough pores.
Combination– Try the Aromatica Tea Tree Toner which hydrates dry patches with aloe vera but also balances sebum production with tea tree leaf extract.
Normal– A combination of  fermented lotus, pomegranate, and sodium hyaluronate work synergistically to lightly hydrate and balance skin in the Shangpree Bitgoa Hue Essence toner.