How to Prevent Acne: Exfoliating and Protecting Blemish Prone Skin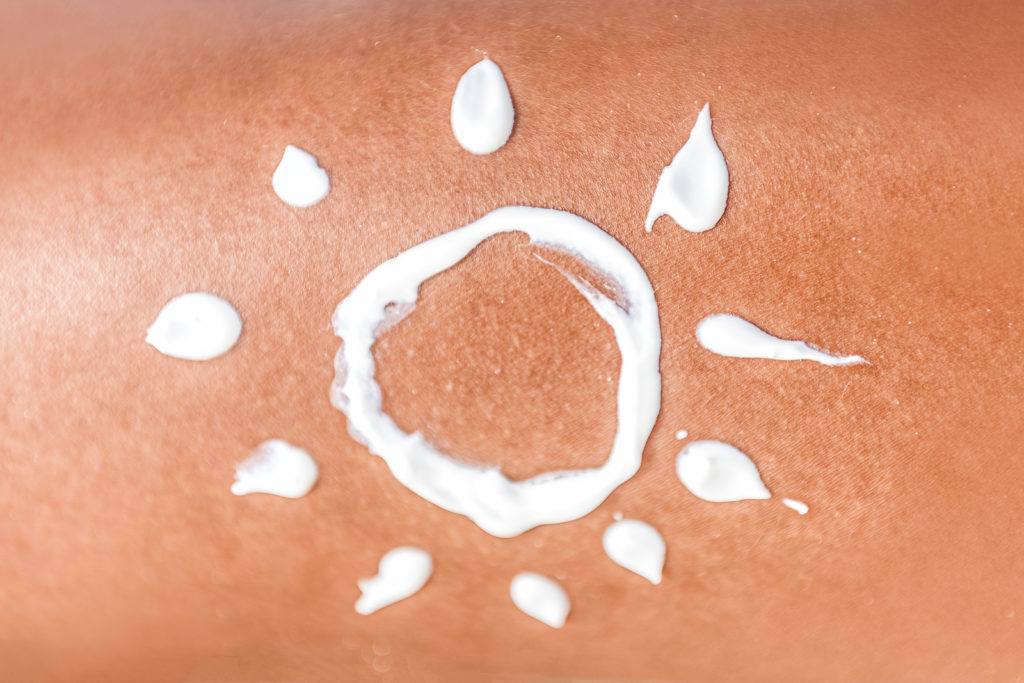 Sometimes, acne can present a vicious cycle, treating skin with harsh ingredients to kill acne is almost always followed by skin that is left stripped, dry and irritated. In order to really treat and prevent acne, we have to keep our skin barrier intact. First, we told you how to cleanse and hydrate in this post (How to Cleanse & Hydrate Blemish Prone Skin). Now, find out how to exfoliate and protect your complexion while keeping your skin barrier strong and healthy.
KEEP THE SKIN BARRIER HAPPY
Sometimes the biggest culprit for acne is a compromised skin barrier. This leads to dehydrated skin and vulnerability to infections/breakouts. Key ways you might be damaging your skin barrier:
1) over-exfoliating (stop using your Clarisonic device as a cleansing tool!)
2) using a high pH cleanser
3) using ingredients that are irritating to the skin
4) mechanically over-scrubbing skin when cleansing or exfoliating
5) environmental pollutants
6) sun damage
Smoking, aging, stressing out, cosmetic procedures, poor nutrition, and also skin disorders can also lead to a compromised skin barrier.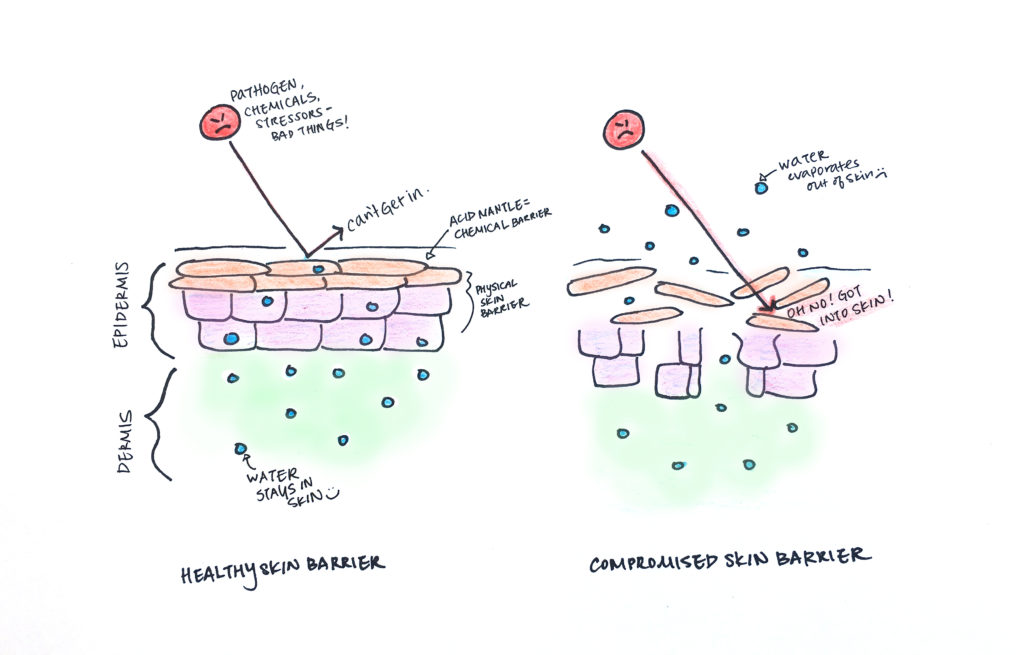 Let's tackle the above topical ways we might damage our skin barrier for now and ways to prevent that. Many Korean dermatologists point to a healthy skin barrier as the primary way to help achieve total acne elimination – it can powerfully help you!
Over-exfoliation. If you're acne-prone, we highly recommend using a chemical exfoliator rather than an abrasive physical formula (for example, think of scrubs that use harsh nut shells). Don't use the product daily unless the directions clearly indicate that it's okay for frequent use. 

Learn the pH of your cleansers and cut out the high pH cleansers (anything above 5.5-6), if you have acne-prone skin.

Stay away from denatured alcohol, synthetic fragrances and sulfates. See which essential oils irritate your skin and cross those off your list, too. Get to know your skin by keeping track of ingredients and how you react.

Again, best to use a gentle chemical exfoliator that you gently pat onto skin rather than rubbing and using a physical exfoliator that may only contribute to damaging your skin.

Use products with tons of antioxidants to help combat any pollutants that enter the skin that causes free radical damage – this can lead to oxidative stress that can exacerbate acne.

Similar to #5, sun can do the same to your skin. So, SPF, always, always.
EXFOLIATE WITHOUT HURTING SKIN

Here are the no-no's when it comes to exfoliation:
overdoing it – it can damage the skin barrier

mechanically scrubbing skin when you have a breakout – it can spread it

using an exfoliating device that isn't clean
To get right to the point, here are the exfoliators we love for preventing acne:
Eco Your Skin Bedside Mask – this uses salicylic acid to penetrate through the sebum and unglue dead skin cells and unclog pores all while you're sleeping. Milk proteins are added in to nourish skin and lavender to soothe skin. The results? Proper exfoliation without damaging that skin barrier. What we love? This exfoliates the dead skin cells

inside

pores, too! Results? You wake up with seriously supple skin that's also nicely cleansed out from the salicylic acid without drying you out. Great for all skin types, even dry skin types.

Mizon AHA/BHA toner – uses both hero acids to exfoliate the surface of the skin and unglue dead skin cells. It's super gentle that it can be used daily. You won't see results the next day because it's very gentle, but after about 2-3 weeks of use, you'll see that baby-soft skin is revealed and most importantly, this can help stop those breakouts. Great for even sensitive skin.
FINALLY, BE SURE TO USE: 1) ANTI-INFLAMMATORIES, 2) ANTIOXIDANTS, and 3) ANTIBACTERIALS
Here's what each can do for you:
Anti-inflammatories make sure that a pro-inflammatory response (acne with visible inflammation) is kept better under control

Antioxidants help prevent sebum from oxidizing, which can lead to acne. Also, antioxidants can help prevent inflammation.

Antibacterials will help fight bacterial infection. We like this!
This 3-pronged approach can help combat acne in a profound way. Here are products that will get you 1, 2 or 3 of the above!
Cremorlab Mineral Treatment Essence – niacinamide and botanical extracts provide both anti-inflammatory and antioxidant benefits in a potent way. The results speak for themselves (be sure to read the reviews!)
Eco Your Skin Vitamin C Boost Powder – this is pure unadulterated ascorbic acid powder. Stable, powerful vitamin C! Be sure to read the directions on how to apply this as it's potent. Vitamin C has powerful anti-inflammatory and antioxidant benefits.
Mizon Snail Line – snail mucin is a natural antibacterial, and helps regenerate skin. The All In One Snail Repair Cream is very popular when it comes to helping keep acne at bay.
All three recommendations are fantastic for acne-prone skin as it won't clog pores. And the products are potent enough to show you results very quickly without irritating skin (again, read the directions on how much Vitamin C to apply to skin!).  Always make sure to apply SPF during the day, look for a formula with a minimum of SPF 30 to help prevent inflammation and darkening of acne marks. Of course, sleeping well, incorporating anti-inflammatory foods into your diet, staying away from sugars, drinking tons of water, and managing stress also contribute to the fight against acne. However, this 5-tiered topical approach can be a key step in getting ahead of the acne curve – and preventing those breakouts from happening. If you have any questions about this approach, comment below! We're here to help.