Get That Glow: Alicia Yoon's Bridal Skincare Regimen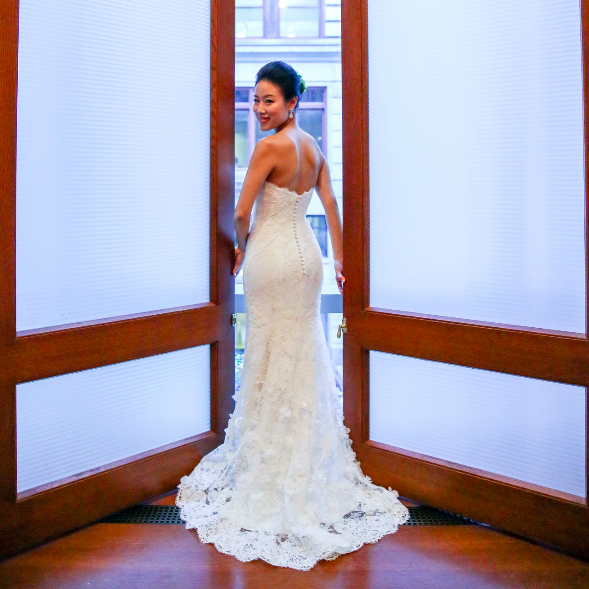 Every bride-to-be hopes for glowing gorgeous skin on her big day…but when you're a KBeauty guru and esthetician, you have to bring your A-game. Peach & Lily's very own founder & CEO, Alicia Yoon, knew her skin needed to sparkle on her wedding day. With access to the very best products, Yoon made sure to have a top notch regimen to get her skin radiant. Here, the exact picks she used and why you might want to consider adding this to your cart ASAP, even if there's not a big day on the horizon. Luckily for you, we've curated a similar regimen, The KBeauty Bridal Radiance Regimen ($110; peachandlily.com), so you can get your glow on. Better yet, this special edition regimen is at a introductory price for a limited time while supplies last. Get yours now and find out why these essentials made it to Yoon's coveted shelf and should be included in yours, too.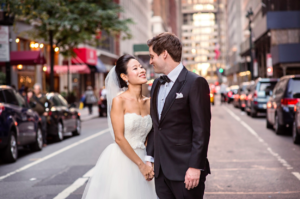 Cleanser
Cleansing skin properly sets the foundation for clean pores. First, using an oil based cleanser helps dissolve makeup and sebum without stripping skin. This oil based non-comedogenic gel (S-Energy Cleansing Gel, $39; peachandlily.com) is a perfect pick since it'll help keep blemishes at bay.  The addition of oyxgen helps quell inflammation while anti-bacterial lavender balances sebum. Follow with a water based cleanser, Yoon loves Shangpree S-Energy Facial Mousse ($35; peachandlily.com). "This cleanser can also be used as a mask for a deeper clean, just leave it on for about 5 minutes before you rinse off," says Yoon. A low pH formula, "doesn't disturb the skin's natural moisture barrie," says Yoon. A low pH formula, "doesn't disturb the skin's natural moisture barrier," Yoon. Double cleansing prepares skin for the treatments that follow (because let's be honest,  a fancy serum isn't going to work it's magic if your pores are already dirty and clogged).
Exfoliator
For a fresh faced glow, you'll want to refine skin with an exfoliator.  "It's vital to get rid of dead skin cells that can cause overall tone to look dull when this is one day where you really want to look as radiant as can be," says Yoon. Unlike scrubs that are made up of harsh particles and nuts, this formula from Be The Skin (Non-Stimulus Facial Polisher, $29; peachandlily.com) is super gentle. "It uses micro celluose fibers that grab onto dry flakes, patches and pore clogging debris in a simple rolling motion," says Yoon. She adds,  "it's super satisfying to see first hand what comes off of your skin and it preps it even further to absorb more hydration." After cleansing, use a dime sized amount of product and softly massage into skin. Within a couple of minutes, you'll begin to see debris build up. Rinse with cool water and follow with toner.
Toner
While American toners have gotten a bad rep for being harsh and causing skin to feel tight, Korean toners are often known to be soothing. "Toner is super important to help skin balance ph levels after cleansing, as well as adding layers of hydration," says Yoon. This one (Lagom Cellus Mist Toner, $21; peachandlily.com) comes in a super convenient spray form that can used throughout the day. It's Nobel Prize winning Dermaflux ingredient technology hydrates the skin from inside out creating a plumping effect. Rich in antioxidants like green tea, rose oil, and geranium, the formula also helps protect against free radical damage.
Essence
A staple in the Kbeauty regimen, an essence helps infuse hydration to the skin. "This game changer (Dr. Dream Dream Age Radiance Powder Essence, $38; peachandlily.com) transforms from a powder to a silky essence once it is applied to the skin," says Yoon. Vitamin C is known for being notoriously unstable, utilizing a powder form "keeps the vitamin C ingredient really fresh and potent to brighten dark spots," says Yoon. The inclusion of rose stem cell helps to iron out wrinkles and bring back vitality to the skin. To use on it's own, shake the powder onto your fingertips, rub together  to emulsify it into a liquid and then tap it all over your face. You can also apply it as a "spot treatment" by applying the essence to drier areas on your face or to target brown spots.
Serum
This lightweight supercharged fluid (Atopalm Moisturizing Skin Revitalizing Complex, $46; peachandlily.com) is like the ultimate Maid of Honor, it'll make sure your skin doesn't have flare ups, calms down any potential irritants and gets your skin in optimal condition. "It's like insurance that you won't have any issues before the big day," says Yoon. Anti-inflammatory niacinamide strengthens the skin barrier so it's more resilient while squalane hydrates and plumps. Use gentle upward strokes to apply a pumpful of product over skin, focusing on areas prone to fine lines like the eyes, mouth and forehead.
Mask
Korea is known for putting sheet masks on the map, these one hit wonders help transform quickly with a potent dose of ingredients.  The Peach & Lily sheet mask collection ($15; peachandlily.com) comes in three varieties: Chubby Cheeks (plumps up and rejuvenates tired sagging skin), Good Skin Day (drenches and nourishes dry skin) and Reset Button (soothes and calms irritated skin). "These, I would say are the icing on the cake of your bridal skin routine," says Yoon. Her tip for using the trio? Use Chubby Cheeks the morning before your wedding to keep your skin happy and glowing.Put on Reset Button the night before the wedding to soothe and destress your complexion so that breakouts are no problem. And finally, Good Skin Day the day of, for just that purpose: have a good day.
Moisturizer
Hydration helps give skin a smooth canvas and allows for better makeup application. Yoon relies on Citrus Honey Aqua Glow ($12; peachandlily.com) which took her months to formulate. "It's a serum and moisturizer in one and lightweight, but can be layered so you can really customize it to your skin's needs," says Yoon. Grapefruit extracts help brighten skin for that lit from within glow while honey extracts and ceramides nourish and boost moisture. "It plumps and nourishes and gives that k-beauty glow," says Yoon. Pat this lightweight gel over skin and layer as many as times as needed till skin is plumped up and hydrated.
Bonus Treatment
 On the chance you get a breakout (things happen), these patches (Peach Slices Acne Spot Dots, $5; peachandlily.com) are there to rescue you! "It's a translucent hydrocolloid patch which covers the spot and works to gently vacuum out excess sebum," says Yoon.  The protective film prevents further irritation. "It really speeds up the healing process which really helps minimize scarring," she says. Apply the patch over any blemish and let sit for up to 8 hours (try it overnight!), remove by gently peeling away the patch. Cleanse the treated area after removing the patch.
Whether you plan to rock a bold lip color or a more natural color, you'll want to make sure your pout is ready to pucker up. Your lips need a little extra TLC, especially if you're planning to wear a long wear lip product (which can be drying). Coconut, honey and shea butter  in this lip mask (Peach Slices Aqua Jelly Lip Mask, $4; peachandlily.com) moisturize and plump lips so they're ready for their picture perfect moment. Apply it over lips while applying the rest of your makeup, remove after 10-20 minutes for plumped up color ready lips that can wear even a totally matte formula.
To further amp up the glow, Yoon also relied on a little TLC from N.Y.C. facialist, Joanna Vargas. Her treatment of choice? The celebrity favorite, Triple Crown Facial, the three-step treatment helps to tone and tighten skin while boosting hydration. "I was looking for a gentle facial that didn't use harsh acids," says Yoon. She adds, "I wanted results without irritation and Joanna helped to give my skin an extra dosage of hydration and nourishment on top of my at-home routine." If you can't make it to see Vargas, here's how to find the right facial in your neighborhood.