Beauty Breakdown: Toners for Every Complexion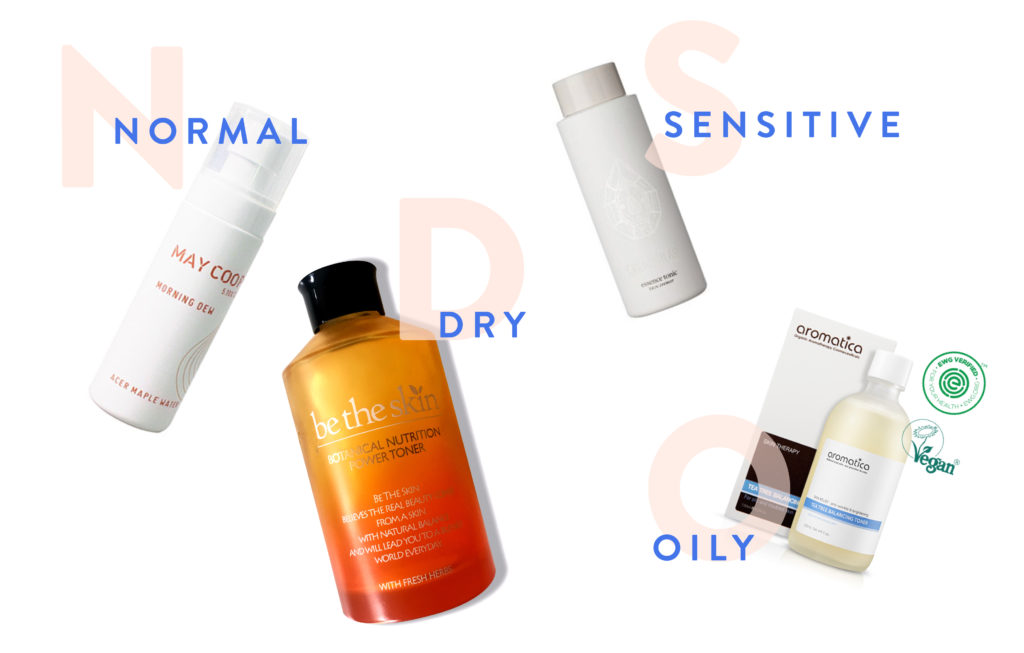 In this series, we help you find the best product for your skin type or concern.
While toner might conjure ideas of an alcohol laden formula that stings, it's time to rethink the skincare staple that fell out of rigueur stateside. While toners in America might have astringent like qualities, Korean toners have been used even on Sahara like complexions to boost hydration. Here's your 101 on toners.
It balances pH. Our skin is naturally acidic, normally with a pH balance of 5.5.  After cleansing, due to the alkaline nature of cleansers or pollution or even because of diet the pH balance of skin gets disturbed. When this happens, skin needs to work overtime to restore the balance (and that may result in oil), but using a toner helps to restore pH quickly.
It removes residue. Even cleansers can leave behind traces, toner helps create a completely clean canvas. Applying a small amount of toner to a soft cotton ball or pad and gently blotting and wiping your face with it will remove oil and give the appearance of smaller pores.
It adds a layer of protection. Toners can help tighten cell gaps after cleansing, thus reducing the penetration of impurities and environmental contaminants into the skin. It can help remove chlorines and minerals present in tap water. It delivers nutrients like antioxidants and minerals to boost the skin. Some toners are humectants which mean that they help to bind moisture to the skin. Toners containing glycolic or other alpha hydroxy acids can help sweep away dead skin cells and prevent ingrown hairs.
To use toner, apply to a cotton pad or your fingertips and gently press it into skin. Your complexion should feel soft and supple, not uncomfortable. Now, that you know why you need it, here's the best version for your skin type.
Normal –  Formulated with 98% maple water and 7 different botanical extract, this subtle maple scented mist from May Coop hydrates and brightens skin. The nozzle emits a super fine spritz which won't move or disturb makeup. We like to apply this throughout the day to refresh skin.
Dry- Be The Skin Botanical Nutrition Power Toner prevents that too tight feel with royal jelly and honey. The smooth gel like consistency glides over skin, it easily absorbs and leaves skin with a subtle bounce. The herbaceous scent is mild and dissipates quickly.
Oily- Try the Aromatica Tea Tree Toner, the namesake ingredient helps balances sebum production. While oily and blemish-prone skin might regularly use anti-acne ingredients that dry out skin, organic aloe vera extract in this formula help soothe irritation. The featherweight texture sinks in quickly and dries to a matte finish.
Sensitive–  Mineral rich thermal water in Cremorlab's Essence Tonic helps nourish compromised skin. The lightweight fluid feels like water but it's chock full of nutrients like chamomile, lavender and potassium.
Master toner with the viral Kbeauty 7 Skin trend. How does it work? Pat on a layer of toner to damp skin, starting from the inner planes of your face and sweeping gently upward and outward. Use your fingers to press the toner into skin. Wait 10-15 seconds before applying the next layer, you can apply as little as 3 or super saturate skin with over 10 layers. These thin layers of toners help skin to drink up hydrating ingredients so you're left with glowing, bouncy skin. Additionally, you can apply serum or moisturizer to seal in moisture.